Executive Recruiting for the New Normal
Last updated Apr 14, 2021
Executive Recruiting for the New Normal
Executive search during COVID has forever changed recruiting as we know it. Executive recruiting for the new normal will never be the same because we will never be the same. We humans have changed. We have transformed how we live, where we work, and what makes us feel safe.
Compassion is the glue
In the U.S., adults have bravely ventured forth to support their families as parents do their best to reassure their sons and daughters whose childhoods have been upended by the Coronavirus pandemic. Zoom connects us as it reminds us how very separated we are.
And still, we carry on. We must carry on. And so, to everyone who reads this, our shared pandemic experience is what binds us together.
Pandemic Weirdness Is Our Shared Experience
In fact, I am writing this on my laptop seated in my living room. Not a lick of make-up. I have no Zoom calls scheduled today and besides, the video filter works better than my go-to foundation. Increasingly, our new reality is blending with virtual reality. Each of us is living in our own private Idaho.
That blurring makes what never before would have been okay somehow alright. This is our new normal. Turns out not washing my hair for days on end is better for my curly girl locks.
TikTok told me so. Yes, TikTok has become my guilty pleasure and window onto this strange new world of ours.
Pandemic weirdness is an expression of how we cope. 
For instance, my DIY haircuts started innocently enough, when my hair was shoulder length. In fact, they gave me a sense of control. But eventually, with every shower, I felt compelled to snip uneven bits of hair in the back. That compulsion resulted in the incredible shrinking haircut. It is now chin length and even shorter in the back.
I am learning to let these moments of pandemic weirdness pass. Inhale. Exhale. Namaste. What, if any weirdness, has emerged for you?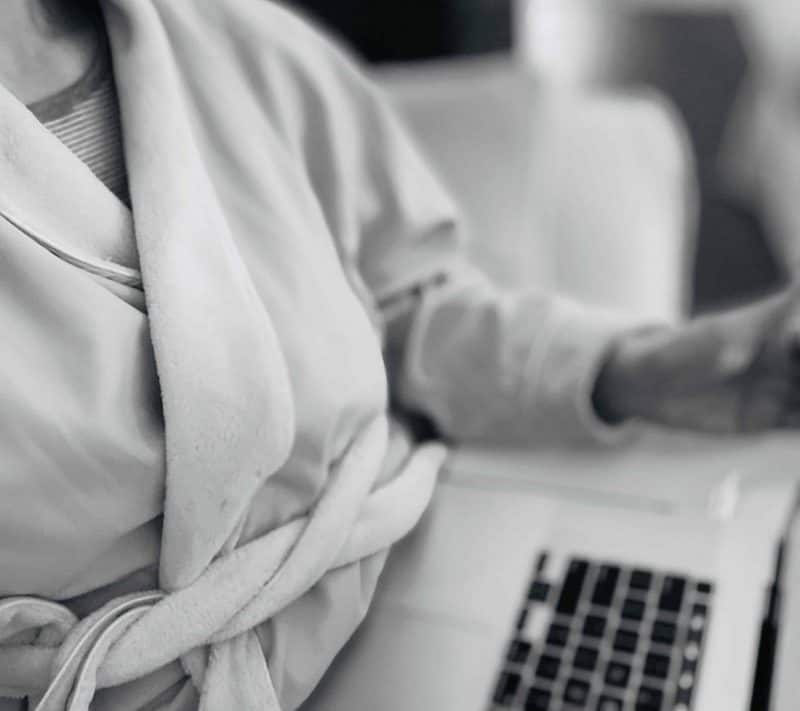 Finding Comfort in an Uncomfortable Time
And though it is already 10:30 am, I am working clothed in my bathrobe and pajamas. It is a source of comfort in an uncomfortable time. To switch it up, I may change from my PJs to my daytime loungewear that, remarkably, look a lot like pajamas.
My office mates are my husband Crispin Cioe and our corgi Hamlet who continually reminds me to be mindful and to live in the moment. I mean, look at that face. You can't help but smile.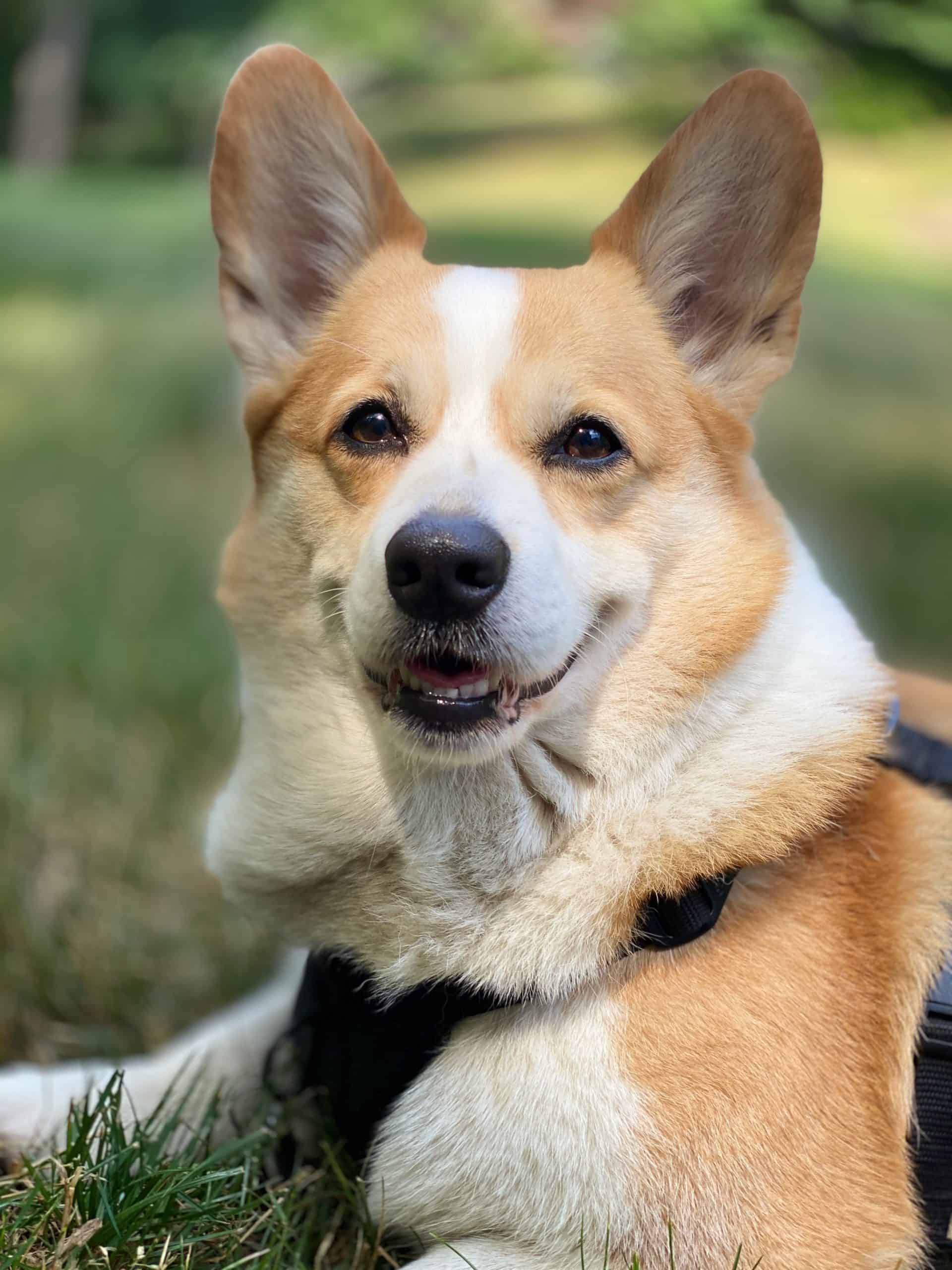 Pay attention to what matters.
As CEO of The Good Search, I head a retained executive search and recruiting research firm. I am a headhunter, the door through which others pass to get to wealth creation opportunities — better jobs at better companies for better compensation — often amounting to millions of dollars. The stakes are high but I focus on what's important — finding "the one" who will deliver a quantum leap. Inspiring leadership.  Brilliant strategy. Gifted technology insight.
As a former journalist, I habitually track breaking news to inform our work. I usually do that by keeping the TV on in the background with the volume off. But when the ongoing pandemics, political crises, economic woes more resemble a dumpster fire, I switch to the BBC news or shut the dang thing off for focused work.
In other words, I've given up on minute-to-minute tracking of the news in much the same way I've given up on Facebook.
I have bravely deleted my entire account, FB friends and photos — everything. It was all too toxic. The platforms have amplified that which divides us because it drives traffic and profitability. And their creepiness has grown, tracking us when we're off the platform while hiding settings to make it nearly impossible to maintain some semblance of privacy.
Yes, the time has come to focus on what matters. The pandemic has united us.
Over the past year, I've forged a closer relationship with our clients. We're in the trenches, together. Our collective epidemic has united us in ways we couldn't have imagined. The virus reminds us of how vulnerable we are. Though we have been a nation divided, COVID enables us to empathize more than we ever have.
We have friends and family on the front lines. We have loved ones who have contracted COVID and have faced their own mortality as they waited to see how the illness would progress.
Where does this leave leadership?
We have the opportunity to become better versions of ourselves. In so many ways, we have endless opportunities to lead — to make a difference at this critical time.
As leaders — as an expression of all that makes us human — we must pause to listen to our friends, neighbors, colleagues, business associates, and partners more closely.
We must get comfortable sitting in silence to hear what others have to say without interruption. In the listening, we cultivate empathy, connection, and trust.
Whenever we witness quiet desperation, often left unspoken, explore ways to pay it forward. Make an introduction. Open a door. Pave the way.
Where does this leave executive search?
Certainly, in a global pandemic, businesses must go on and have.
While I braced for the worst as the Novel Coronavirus took hold, we have experienced a surge in executive search engagements. The need for exceptional leadership is greater than ever — to match force with combined Black Swan events. We have evolved to prepare executive recruiting for the new normal. 
We specialize in technology recruitment and as work shifted online, our clients got busy hiring senior executives and technologists — COOs, CTOs, Chief Architects, and Chief Product Officers.
Moreover, biotech and genomics clients have experienced a similar acceleration as they sprint to solve COVID in record time, only to sprint again to solve its mutant variants.
Executive recruiting For the New Normal
Relocation? Every one of our technology clients has eliminated the requirement to live within commuting distance a corporate office.
Every. Single. One.
And you know what? Executives like it. More time with the family. Less money spent on office attire. More time getting stuff done. Companies have discovered the efficiency that has been the promise of technology all along.
What would have taken companies a decade to change has happened in a matter of months. Work that can be done from home is being done from home.
Match force with destiny
Yes, there is work to be done and people are desperately needed to do this work. If there ever were a time for leadership, that time has arrived.
It is an extraordinary opportunity to test one's mettle and to match force with what destiny has thrown our way. But know this. There are good people — a lot of them — fighting the good fight.
How have you adapted to the New Normal?
How has your work life changed since the Before Times? How have you changed? I welcome your candid comments and look forward to learning from our shared experience.
Thanks for reading! If you enjoyed our post, please show the love and share it with your friends by clicking the buttons below. It makes it easier for others to find the post.