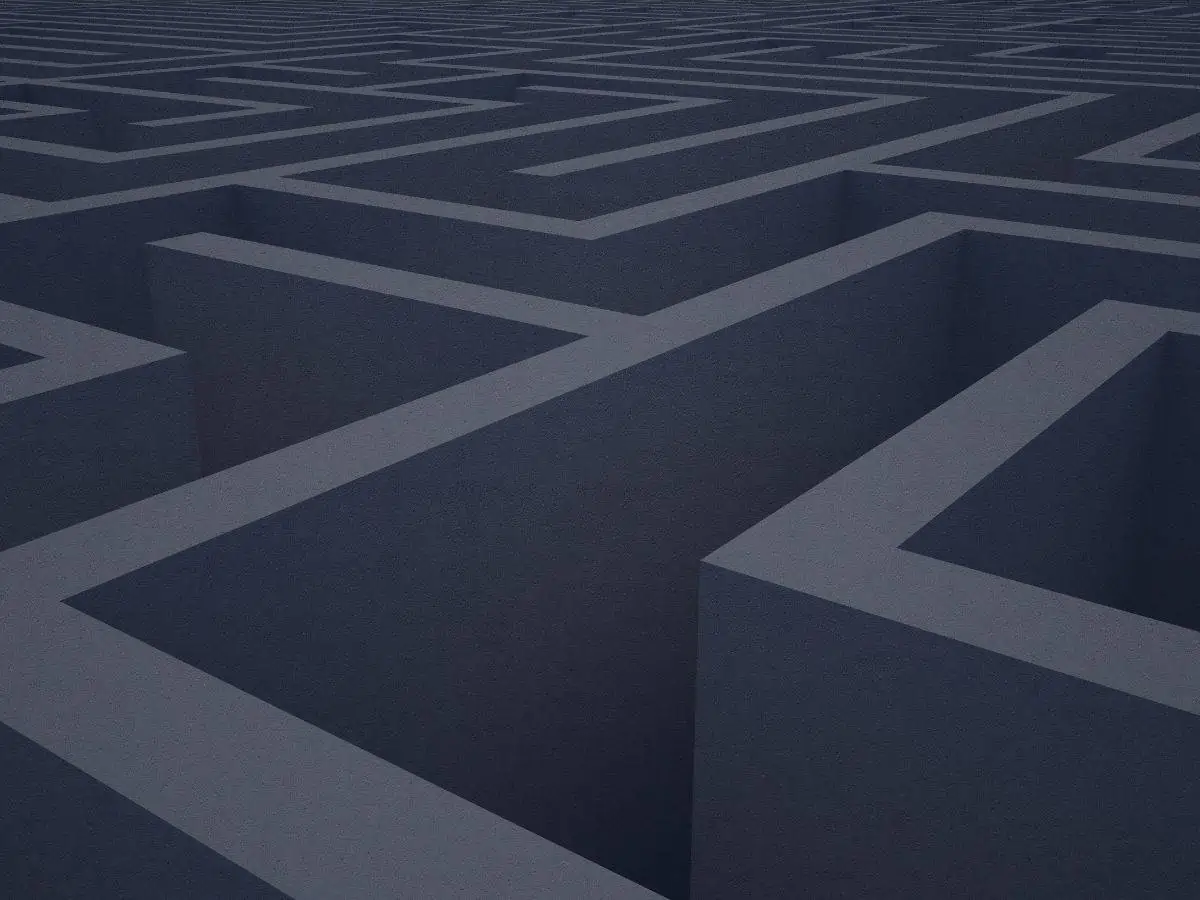 What Top Executive Search Firms Lists Can You Trust?
What Top Executive Search Firms Lists Can You Trust?
Should You Trust Top Executive Search Firm Lists?
Whether you are a Chief Executive OfficerChief People Officer shopping for a retained search firm or a senior executive seeking your next opportunity, the question is the usually same. What are the top executive search firms? So, naturally, you search for them online and scrutinize the results. Pretty soon, you start to wonder, "What "top executive search firms" lists I can trust?" With fake rating websites multiplying like bunnies on the Internet, senior executive candidates and executive search buyers must beware. A list of top executive search firms isn't always what it seems.
Most Top Executive Search Firms Lists Are Unreliable
Lists of top executive search firms are pretty haphazard. For example, at least one of these sites appears to be completely fake. Another list published by Forbes includes a search firm that is reportedly responsible for that bogus rating website. Yet another list has published what it purports is "The Most Extensive List of Executive Search Firms." It claims it features "the best executive search firms out there," but the list features data that is nearly half a decade old. It also cites data from the apparently fake search firm ranking website.
Executive Recruiter Directory No Longer Published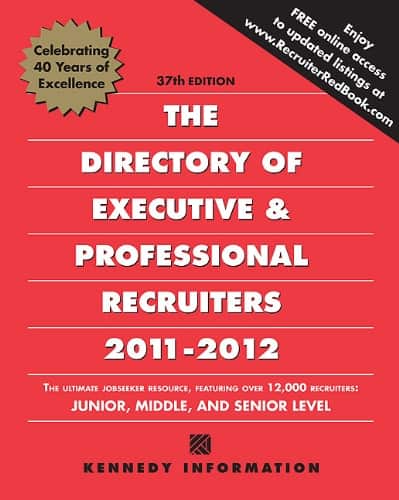 Of course, it wasn't always this way. There used to be a directory that was the go-to resource in most Chief Human Resources Officer (CHRO) offices across the country. The Directory of Executive and Professional Recruiters provided a reliable list of executive search firms you could trust and detailed firms' specialties. Kennedy Information stopped publishing the directory a decade ago.
---
We Analyzed 7 Top Executive Search Firms Lists
The Good Search analyzed seven popular top executive search firms lists. We know companies searching for the right search firms often try to find lists of the best firms. To help, we thought we'd do a little digging for you.
We Discovered One List was Fake
What we discovered was pretty shocking. One site that claims to be a ranked list of the top firms is a fake (more on that later). It turns out a lesser-known search firm that is ranked among the top firms covertly created the site. Falsely awarding yourself a top prize has its advantages. The lie circulates and soon that lesser-known firm is listed in legitimate lists. That development, in turn, raises questions about the quality of those lists as well. So let's walk you through our analysis of the top lists.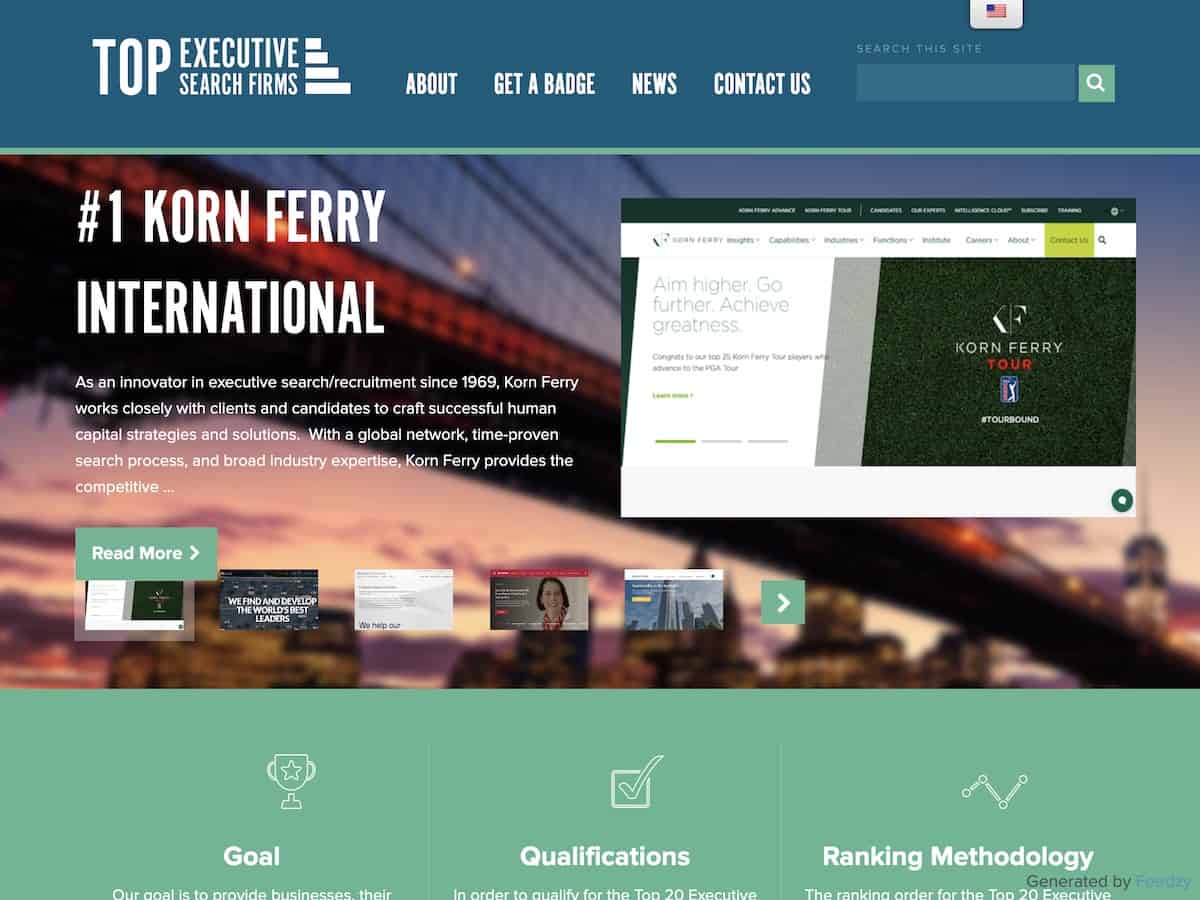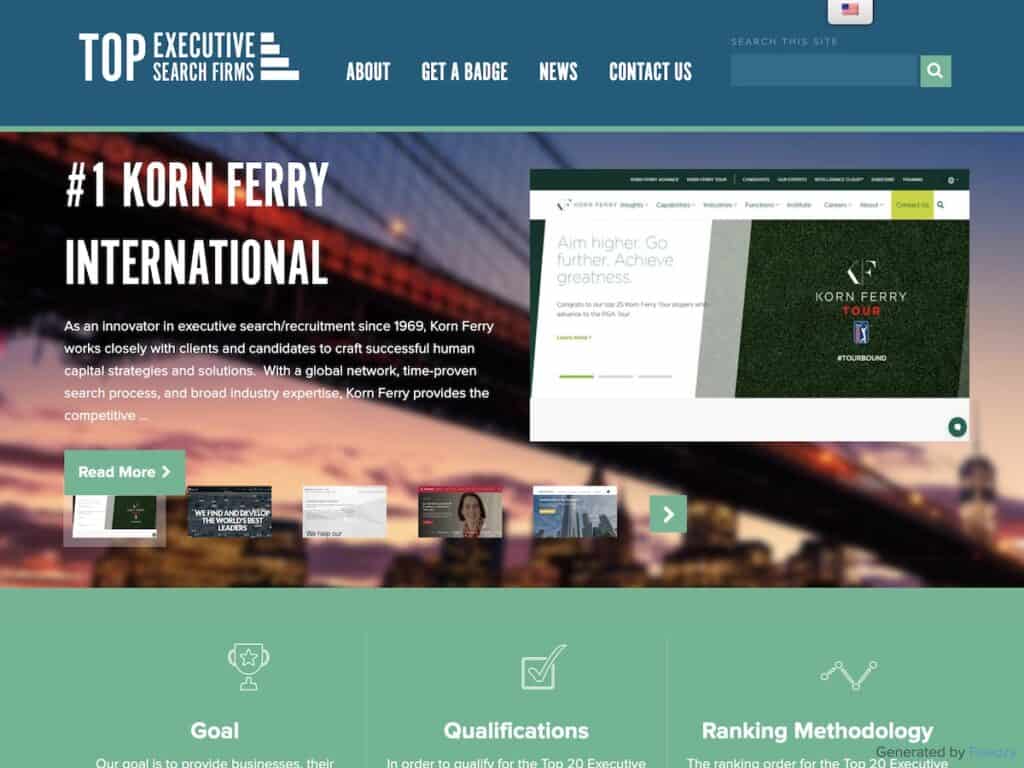 Executive search buyers regularly google the keywords "top executive search firms" in an attempt to find a reliable list of leading search firms. They do so when they're shopping for a headhunter to help fill an executive opening. They simply want to figure out who the best headhunters are. So let's try that now.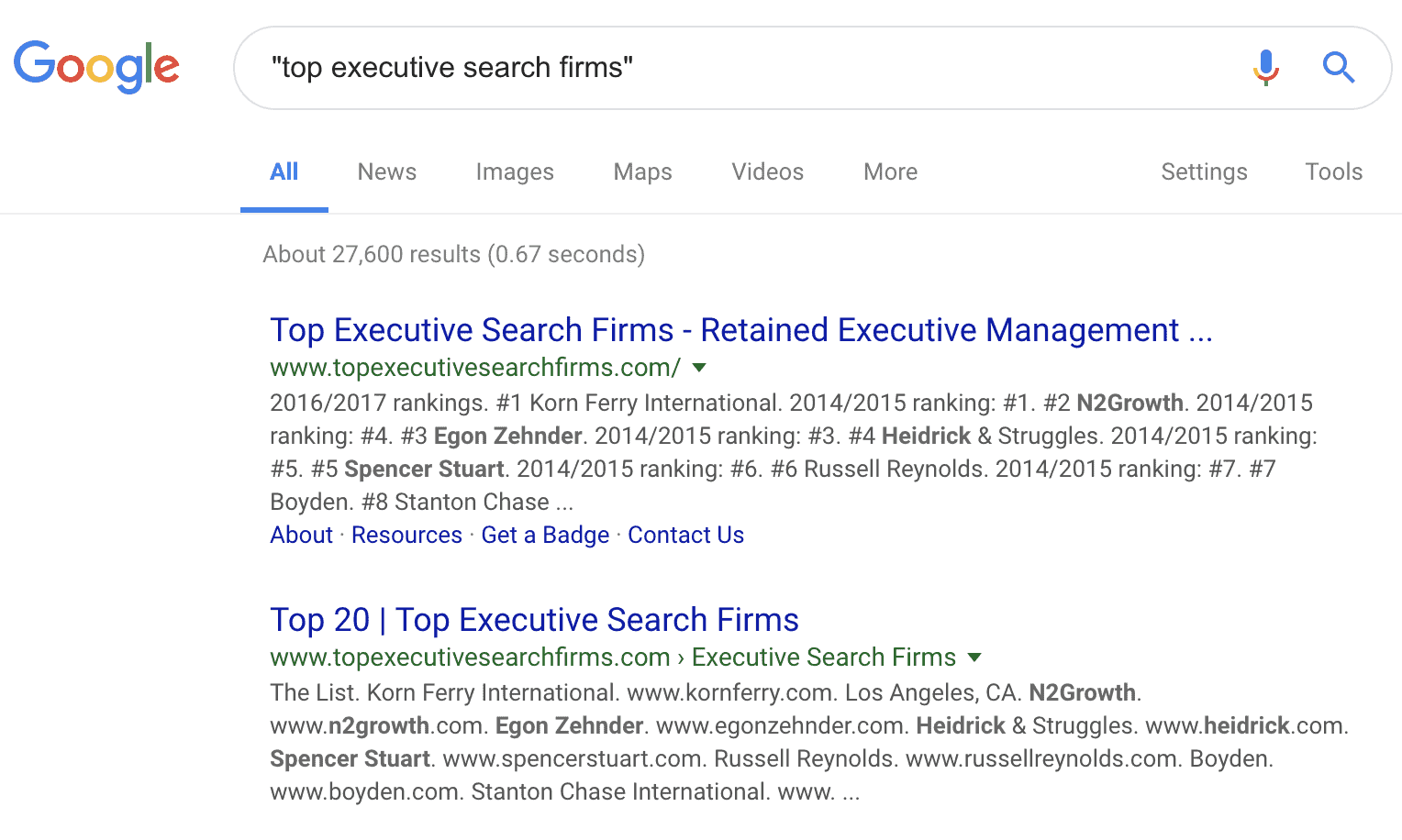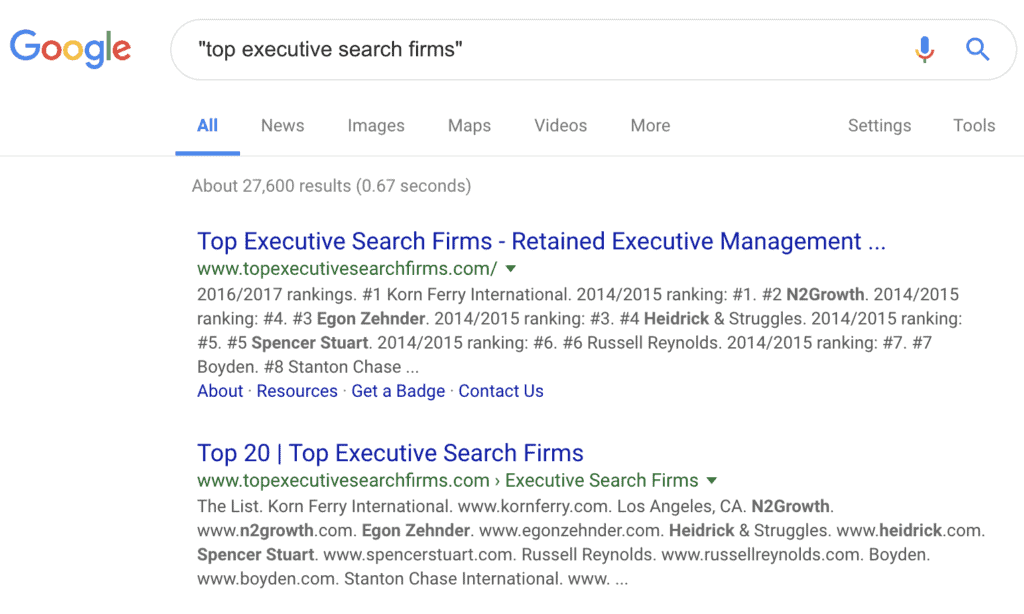 Search for "top executive search firms" in Google.
The first two search results point to TopExecutiveSearchFirms.com.
So what is TopExecutiveSearchFirms.com?
The TopExecutiveSearchfirms.com website lists the executive recruiting industry's largest global search firms. That's no surprise. But when we visit the website, a number of red flags emerge.
Red Flag #1: Little-Known Search Firm Makes the List
What is surprising is a little-known search firm is also listed along with the top firms. When this website first appeared online, no search industry mover-and-shaker that I spoke to had ever heard of the firm. So I reviewed the website a bit more.
Red Flag #2: The Website Does Not Disclose Its Owner
The website does not list any contact information or say what company is responsible for the website. The domain registration does not disclose the owner either.
Red Flag # 3: The Ranking Method is Suspicious
The website claims to rank the top executive search firms algorithmically using the criteria,
"The ranking order for the Top 20 Executive Search Firms list is derived algorithmically based upon a proprietary weighting of the following criteria: annual revenue, number of placements, number of ancillary services or practice areas, level of searches handled by average salary, completion ratio, average time to complete, stick rate, client satisfaction (testimonials/votes), social media presence, executive thought leadership, and editorial input."
Red Flag # 4: The Ranking Algorithm Makes No Sense
No search firm that I know would voluntarily disclose that level of closely held, proprietary information to an unknown entity. In other words, I don't believe the listed search firms provided that information. I don't believe there is a magical algorithm. I don't believe the list is real. If it is, show me the receipts.
Turns Out TopExecutiveSearchFirms.com is a Marketing Ploy
How do we know that? A marketing firm listed the site on its website as one of its projects.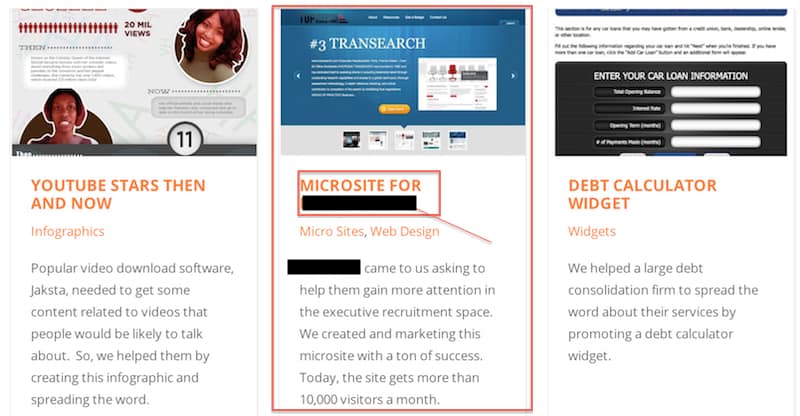 The Marketing Firm Created a Microsite
A marketing firm created the TopExecutiveSearchFirms.com "microsite" for a search firm that it named. In doing so, it revealed the real reason the website was created. The search firm:
"came to us asking to help them gain more attention in the executive recruitment space. We created and marketed this microsite with a ton of success. Today, the site gets more than 10,000 visitors a month."
The marketing company displayed an image of TopExecutiveSearchFirms.com with a description of the work it did for a search firm — a name we have redacted. In other words, a search firm paid the marketing firm to create the TopExecutiveSearchFirms.com website. Next, the search firm turned around and named itself a top executive search firm.
The Search Firm Lists Itself Among Search Firm Giants.
The other search firms on the topexecutivesearchfirms.com list have been counted among the largest search firms in the world for well over half a century. That the disingenuous search firm had the temerity to hoist itself, uninvited, into the pantheon of global retained executive search firms is one thing. To do so through trickery and deception is quite another. And still, it isn't done.
The Search Firm Keeps Raising Its (Fake) Ranking
Over the years, the search firm has raised its ratings on its concocted list. The microsite has moved the search firm higher every couple of years from #5 in 2012 to #4 in 2014 to #2 today.
The invention of a bogus rating website could be viewed as a pretty genius marketing move — if it weren't for the pesky deceptive practices of making false and misleading statements on a bogus website. And if that weren't all, the overt misinformation appears to have been picked up by other lists of top search firms including Forbes' List of Best Recruiting Firms for multiple years in a row.
You'd think that deception would be disqualifying.
The Search Firm CEO Did Not Comment
I reached out to the CEO of the firm responsible for the website for comment — by phone and by email. He did not respond. Next, I reached out to Forbes to ask how it determined that the deceptive search firm was a top firm. They pointed to obtaining the search firm ranking information from Statistica. I am withholding the search firm's name because I have no interest in picking a fight with a firm that has to make up its standing in the industry.
This is a Cautionary Tale
Rather, I am writing about this as a cautionary tale. It bothers me, as I suspect it may bother you, that a search firm is actively misleading executive search buyers. It also troubles me that well-known business publications including Forbes appear to be gullible enough to include the deceptive search firm and information generated by the bogus site on their lists.
Let the executive search buyer beware.
---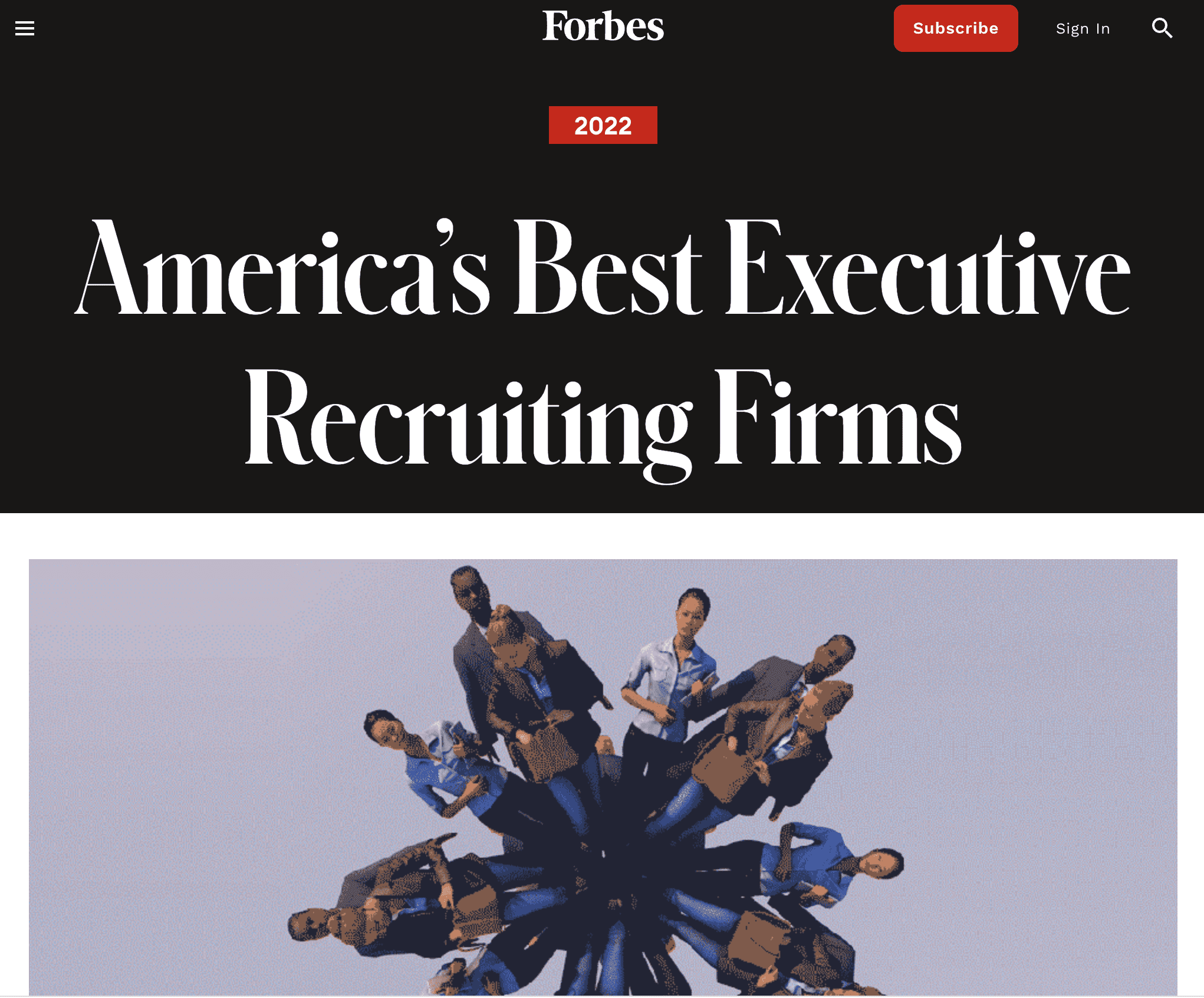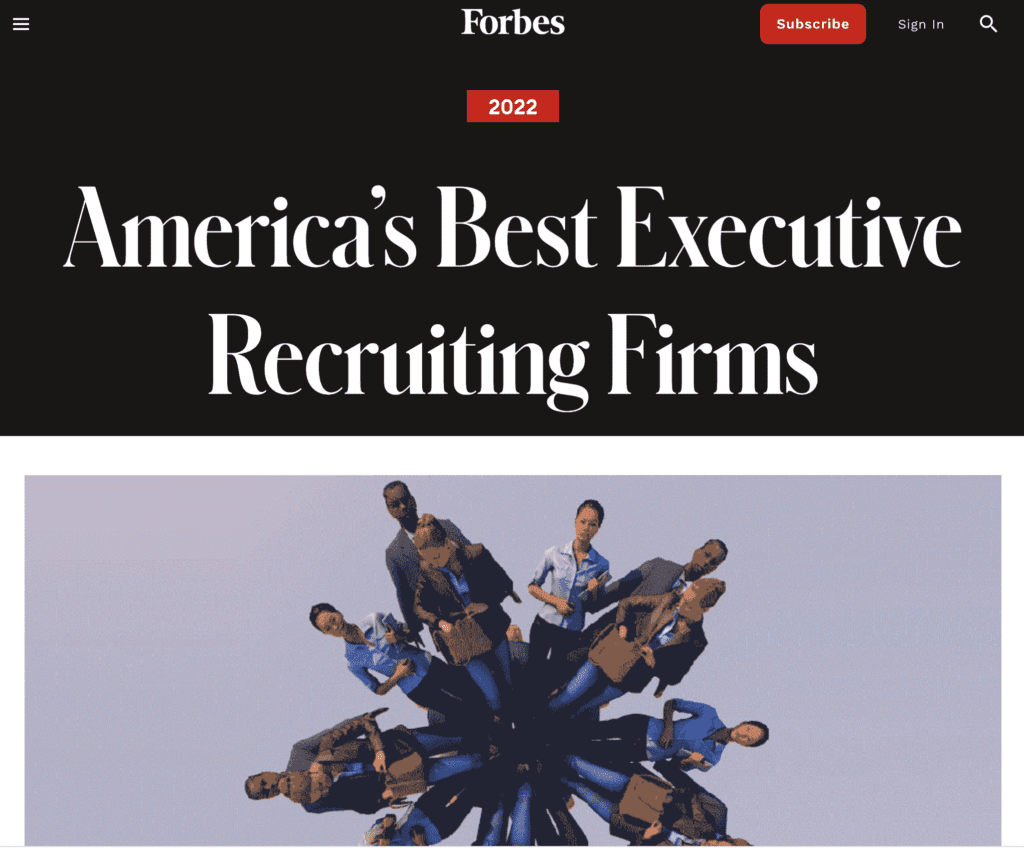 In partnership with Statistica, Forbes publishes America's Best Executive Recruiting Firms. It explains market research company Statista surveyed over 31,000 recruiters and 6,900 job candidates and human resources managers who had worked with recruitment agencies within the last three years. A total of 366 firms made the final lists.
Forbes Discloses Its Methods for Selecting Top Firms
Forbes' disclosure of its methods is laudable. Additionally, the Forbes list does feature many global retained search firms that are undisputed leaders among the multinational traditional retained search firms: Spencer Stuart, Egon Zehnder, Korn Ferry, and Heidrick & Struggles. However, the Forbes list is not perfect.
Yet, the Deceptive Not-Really-Top Search Firm Made the List
That's because Forbes includes the search firm behind the fake search firm rating website TopExecutiveSearchFirms.com. Creating a misleading — if not fraudulent — website would be considered by many to be disqualifying.
Forbes' Inclusion of Bad Data Raises Questions
The inclusion of unreliable data from TopExecutiveSearchFirms.com raises questions about the quality of the Forbes list, in partnership with Statistica. In fact, it has included this search firm several years in a row and includes a description of the search firm provided by the search firm itself.
---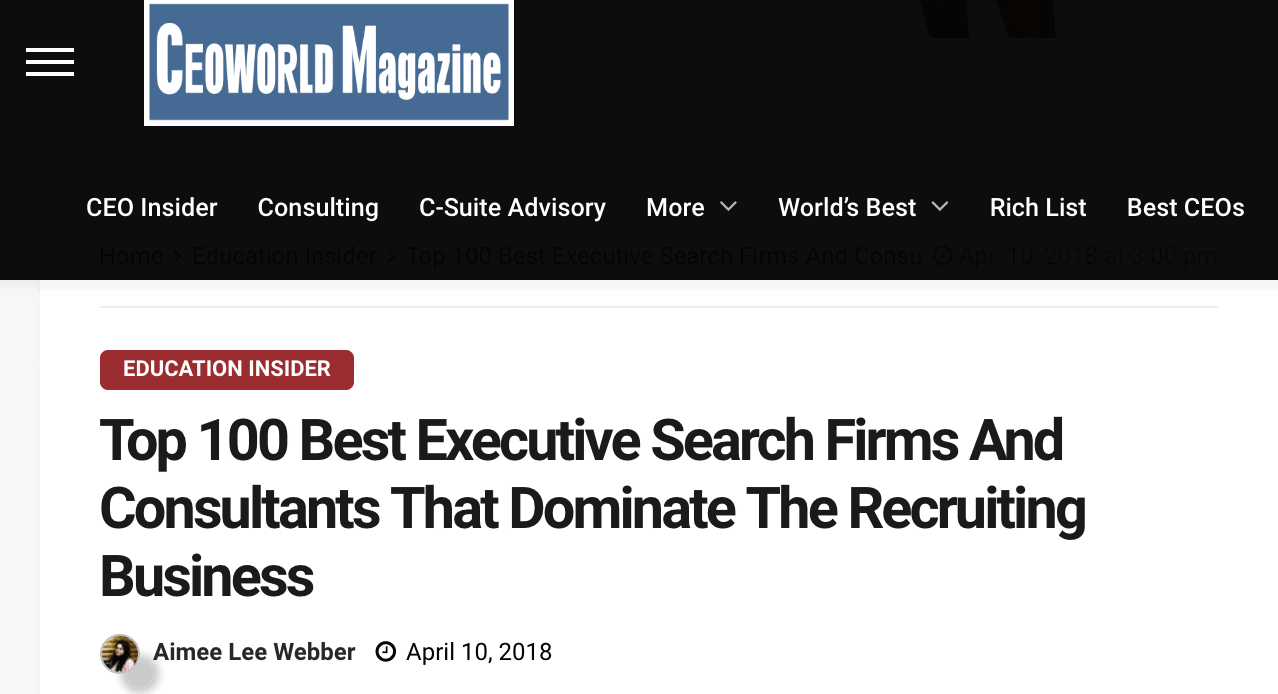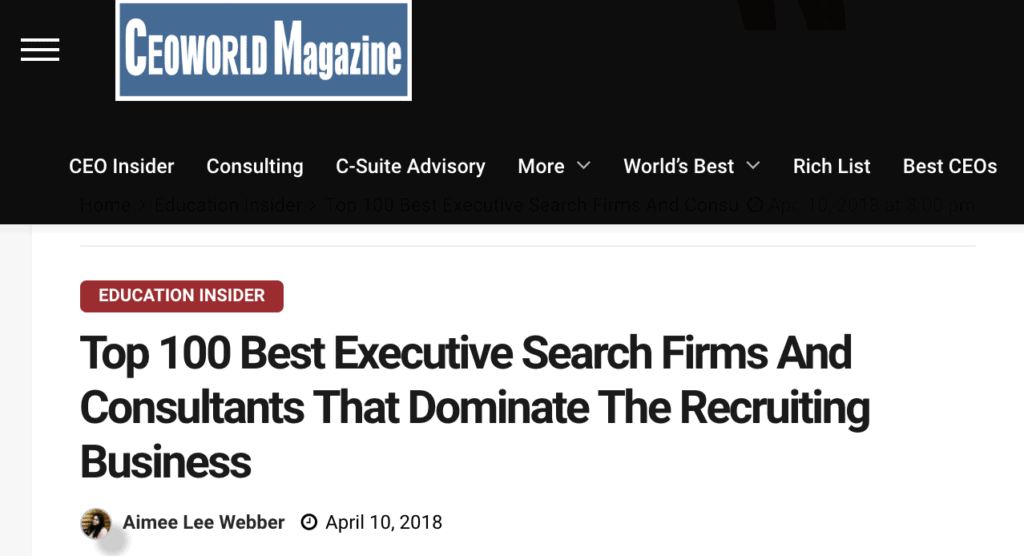 CEOworld has "compiled a list of the top 100 best executive search firms and consultants that dominate the recruiting business around the world." However, the list of Top 100 Best Executive Search Firms duplicates the first 100 firms in the Forbes/Statistica list. It features the same search firms in the exact same order. The site does not disclose its methodology or information source. Additionally, the most recent list was posted in April 2018.
---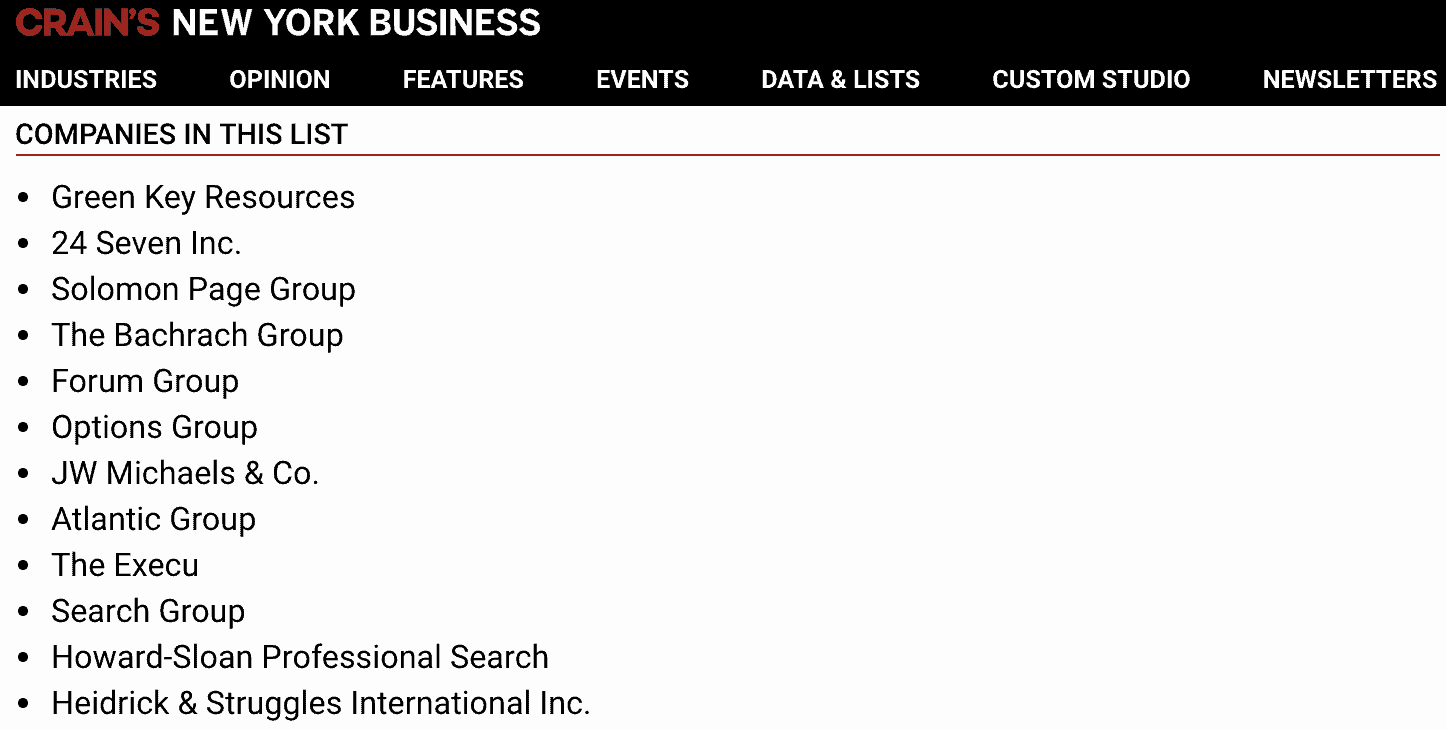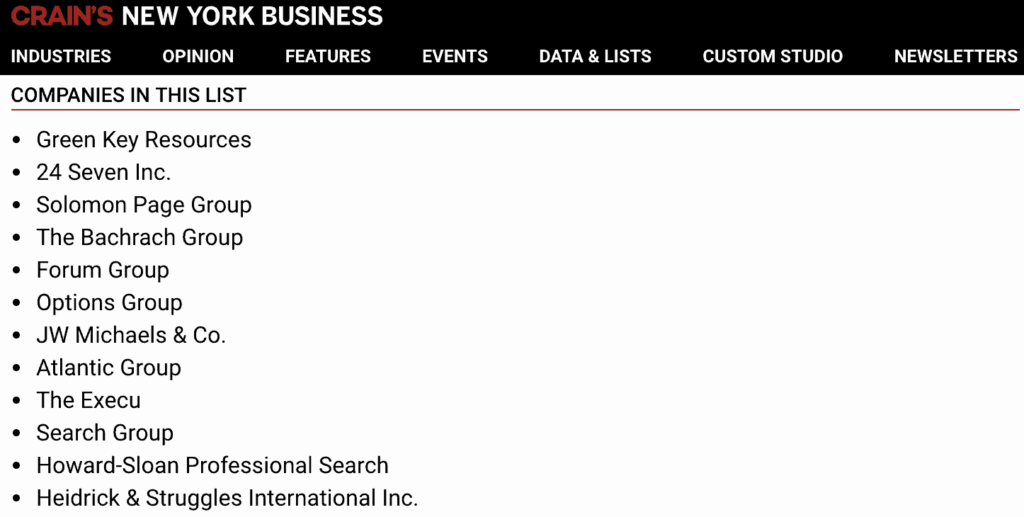 Crain's New York Business has published a list of the 25 largest executive recruiters. It is available in Crain's Book of Lists. Crain's New York Business also sells the data for download.
However, if you are seeking a tidy list of top retained search firms, you will be disappointed. The list is focused is a mashup of all kinds of firms that recruit talent including staffing, temp, and contract recruitment firms. Additionally, search firm size informs — yet does not answer — whether the search firm is good.
---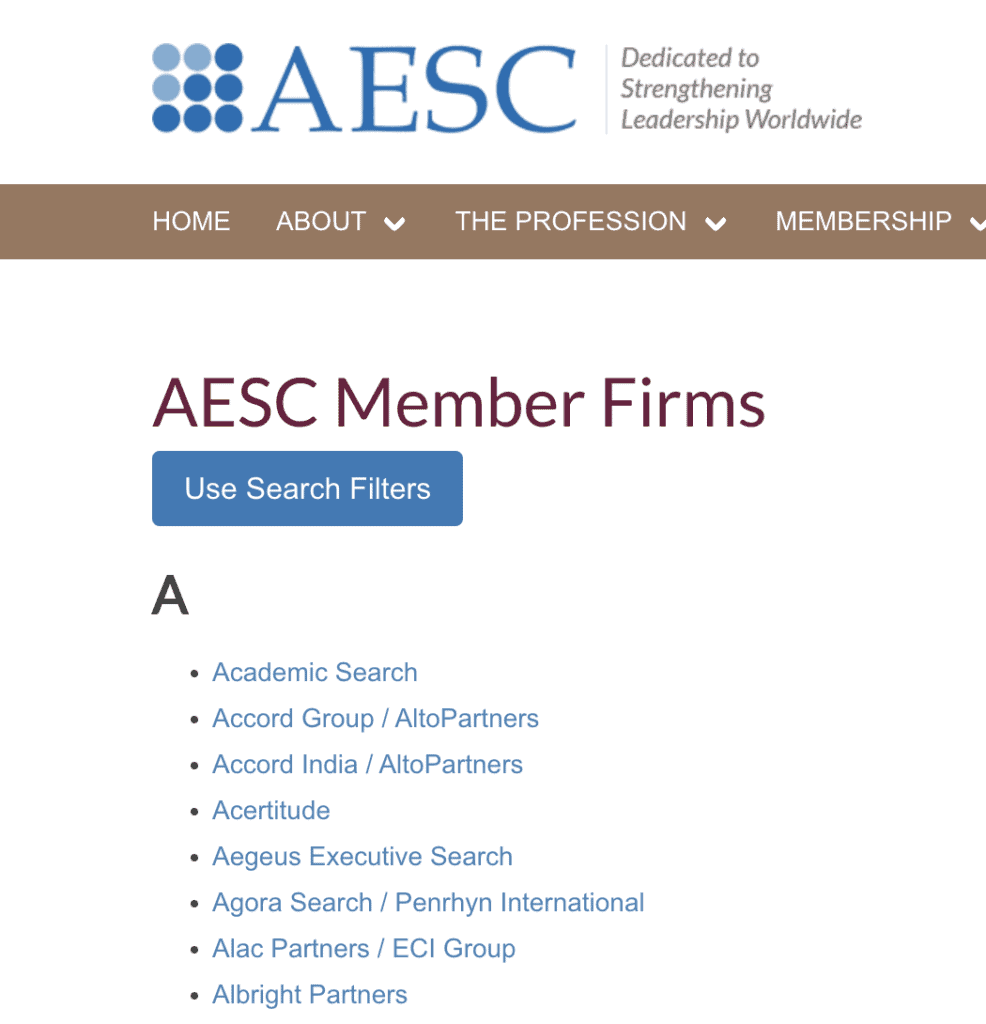 The Association of Executive Search and Leadership Consultants offers a list of retained executive search firms. The AESC is the leading retained executive search firm association. One benefit: its members do agree to abide by the AESC's Code of Professional Conduct. In an industry where virtually anyone can hang out a shingle, that is not insignificant.
The List Features Only AESC Member Firms
However, the global list is limited to member firms. Leading boutique firms are nowhere to be found on the list because they are not members. Moreover, as is the case with most of the lists we've detailed, there is no easy way to filter the list by firm specialty or location. In addition, the list is not ranked: all member firms are created equal. In other words, if you are seeking a list of top executive search firms, this list is incomplete.
---


Cleverism is a career website that publishes what it claims is the Most Extensive List of Executive Search Firms. However, the data it cites comes from search firm press releases, some of which are nearly half a decade old. TopExecutiveSearchFirms.com site has fooled Cleverism into believing its information. Cleverism cites it as a source in its Boyden listing.
---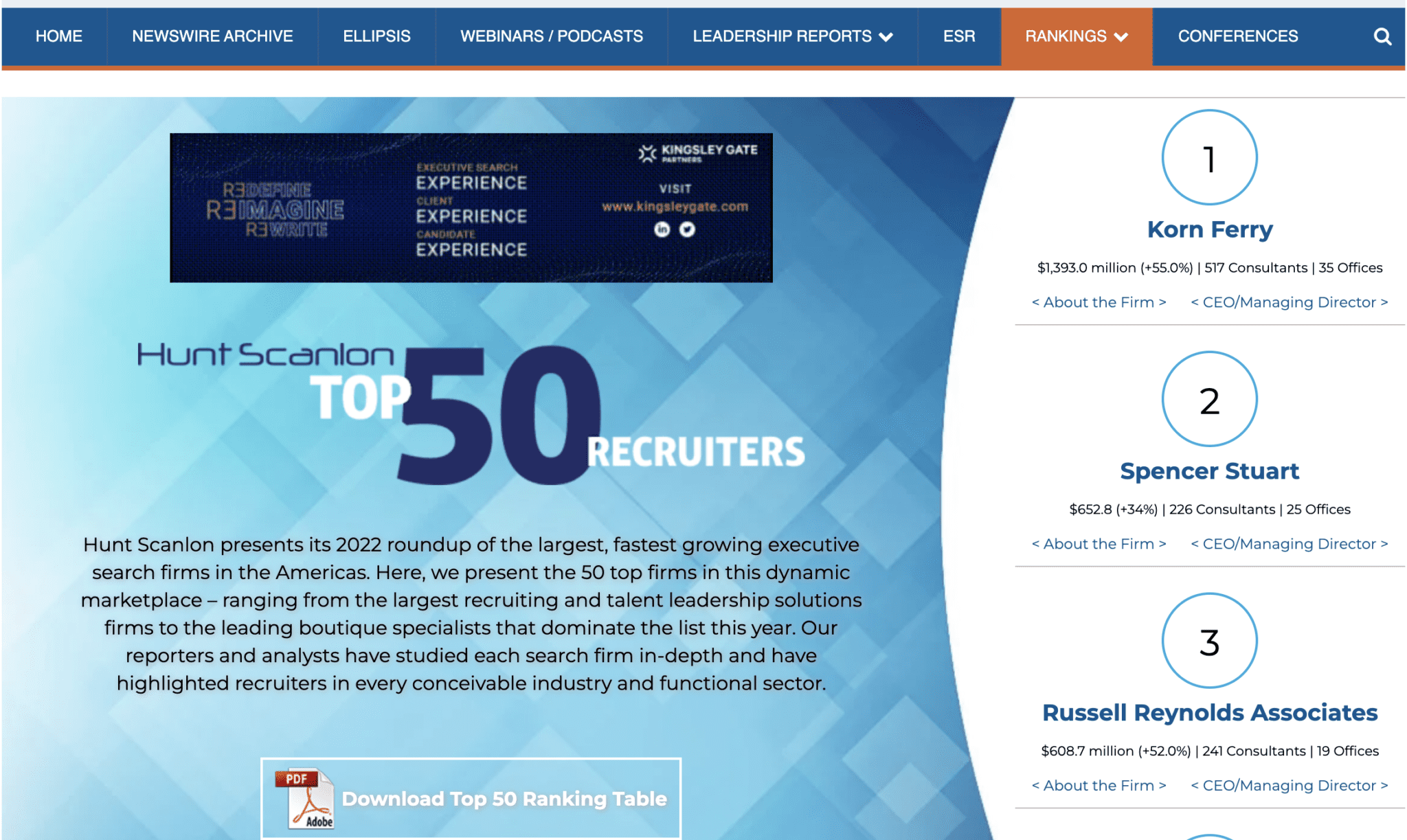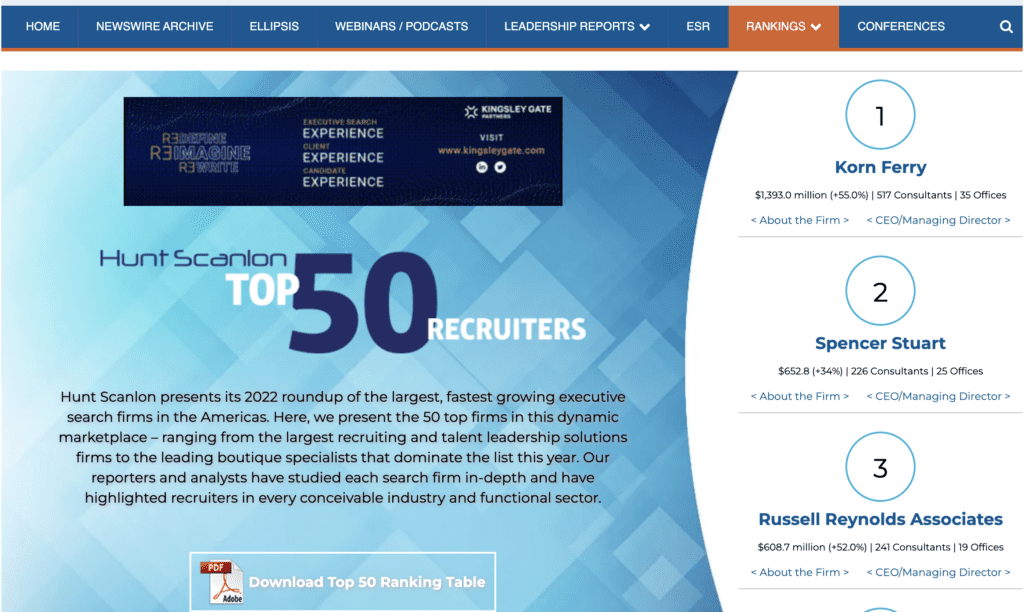 Hunt Scanlon is the publisher of Executive Search Review's Top 50 Recruiters. The leadership intelligence company has covered the retained search industry for some 30 years and regularly produces detailed research reports. Its employees regularly communicate with CHROs, heads of talent acquisition, hiring executives, and the executive search consultants who serve them. As a result, they have their fingers on the pulse as industry experts.
Summary
The Hunt Scanlon List Seems the Most Reliable
Hunt Scanlon conducts original research to compile its list of the leading search firms. Hunt Scanlon Media — the most widely referenced, single source for information in the human capital sector. It specializes in covering the retained executive search business. While many of the search firms listed in the Top 50 also advertise with Hunt Scanlon, others do not. So out of all the lists, the Hunt Scanlon list seems the most reliable.
Building Your Own List is Ideal
Of course, if you have the time, compiling your own list of top executive search firms is ideal. You get to pick the firms. You then can verify the information to your own satisfaction. To learn more, visit Top Executive Search Firms: How to Build Your Own List.)
---
Thanks for reading! Of course, we welcome your comments. If you enjoyed our post, please show the love and share it with your friends by clicking the buttons below. It makes it easier for others to find the post.