Top Executive Search Firms
What Top Executive Search Firms Lists Can You Trust?
Whether you are a senior executive seeking your next opportunity or a chief people officer shopping for a retained search firm, the question is the usually same. How can you tell which of the 'top executive search firms' lists you can trust? With fake rating websites multiplying like bunnies on the Internet, senior executive candidates and executive search buyers must beware. A list of top executive search firms isn't always what it seems.
Many Internet Executive Search Firms Lists Unreliable
Online top executive search firms lists are pretty haphazard. For example, at least one of these sites appears to be completely fake. Another list published by Forbes includes a search firm that is reportedly responsible for that bogus ratings website. Yet another list has published what it purports is "The Most Extensive List of Executive Search Firms." It claims it features "the best executive search firms out there," but the list features data that is nearly half a decade old. It also cites data from the apparently fake search firm ranking website.
Trusted Executive Recruiter Directory Now Outdated
Of course, it wasn't always this way. There used to be a directory that was the go-to resource in most Chief Human Resources Officer (CHRO) offices across the country. The Directory of Executive and Professional Recruiters provided a reliable list of executive search firms you can trust and detailed firms' specialties. Kennedy Information stopped publishing the directory several years ago.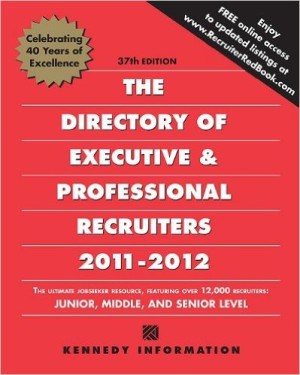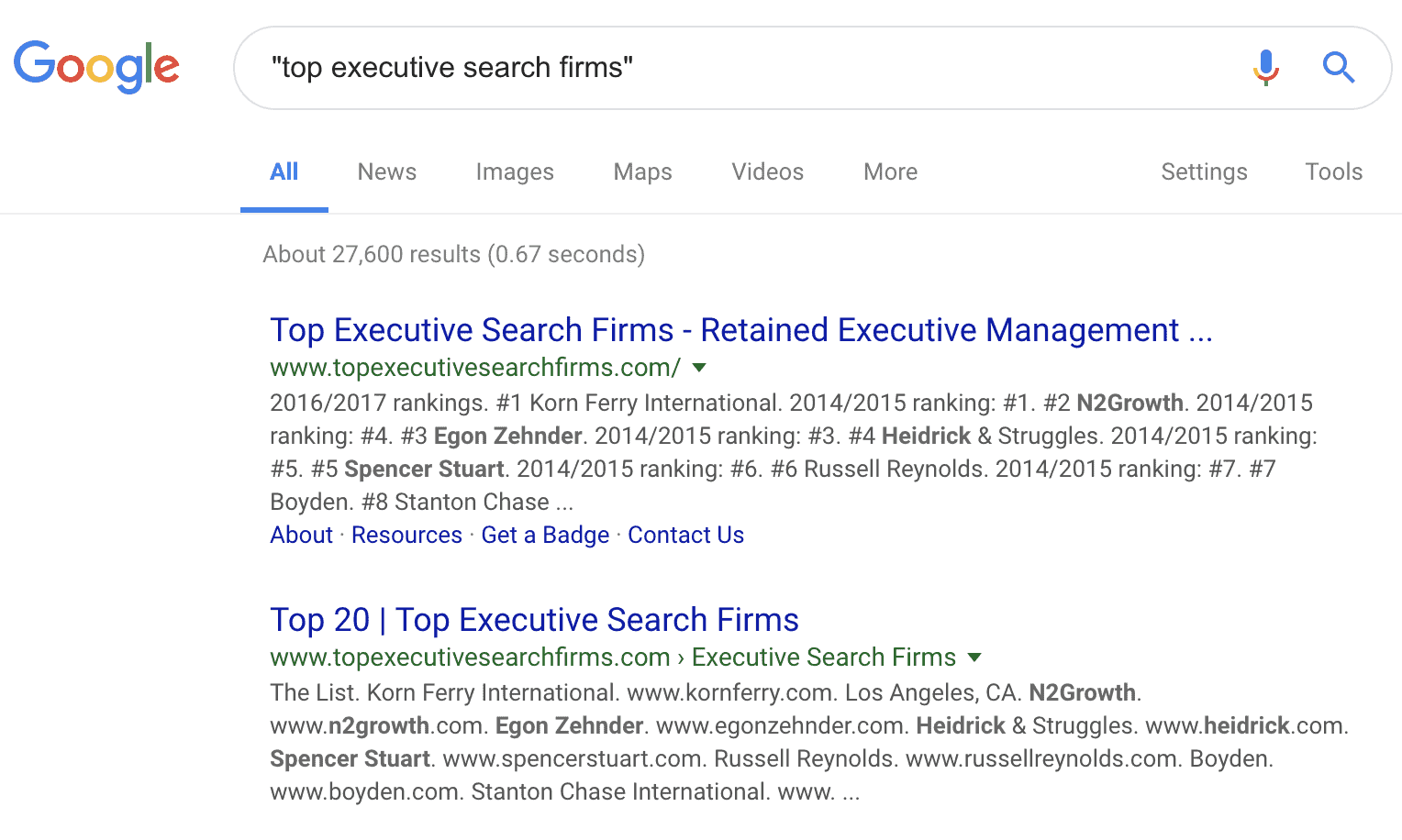 Google: "Top Executive Search Firms"
Executive search buyers regularly google the keywords "top executive search firms." They do so when they're shopping for a headhunter to help fill an executive opening. It's only natural to try to figure out who the best headhunters are. When we googled the keyword phrase "top executive search firms," the top two search results pointed to TopExecutiveSearchFirms.com. Yet, as far as we can tell, the site is not what it seems. Evidence suggests it is a website created by one of the firms listed in the Top 20 for marketing purposes. In other words, it appears to be a fake search firm ratings site.
TopExecutiveSeachFirms.com
TopExecutiveSearchFirms.com is a website that, as far as we have been able to determine, is designed to mislead visitors. It purports to be a website that ranks executive search firms algorithmically.  However, a marketing firm has claimed that it created the website for a search firm client that — surprise, surprise — lists itself as one of the top 20 executive search firms on the site. The marketer explained that the search firm:
"came to us asking to help them gain more attention in the executive recruitment space. We created and marketing [sic] this microsite with a ton of success. Today, the site gets more than 10,000 visitors a month."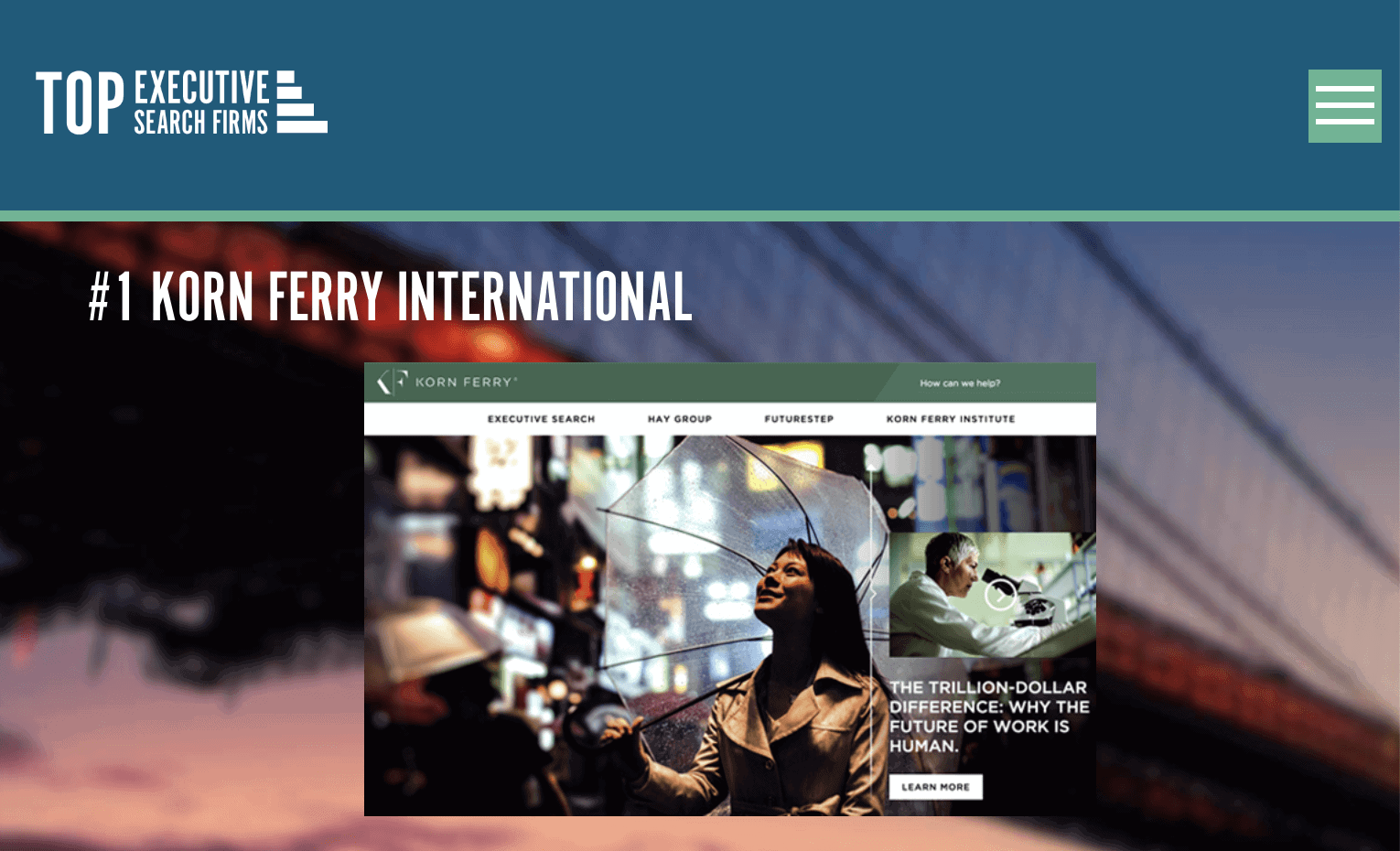 The marketing company claims it created TopExecutiveSearchFirms.com for a search firm, and that website then named that search firm one of the top 20 firms. In fact, the website has been slyly moving the client search firm higher in the rankings every couple of years from #5 in 2012 to #4 in 2014 to an even higher ranking today. If you surf over to the corporate website for the search firm, you'll find that the search firm's website touts recognition by TopExecutiveSearchFirms.com in press releases. In doing so, it does not reveal that the search firm created the very website that concocted the bogus ranking that they've given to themselves.
What about other 
Executive Recruiting Firm LIsts?
Forbes' Best Executive Recruiting Firms
In partnership with Statistica, Forbes publishes America's Best Recruiting Firms. It explains that the rankings are based on a client survey of 4,500 candidates and HR-managers as clients of recruitment firms within the last three years and an expert survey of 30,000 external recruiters from recruiting firms. Forbes' disclosure of its methods is laudable. Additionally, the Forbes list does feature many of global retained search firms that are undisputed leaders among the multinational traditional retained search firms: Spencer Stuart, Egon Zehnder, Korn Ferry, and Heidrick & Struggles.
However, the Forbes list is not perfect. It also includes the search firm that appears to be behind the fake search firm rating website TopExecutiveSearchFirms.com. Creating a misleading, if not fraudulent, website would be considered by many to be disqualifying. It also raises the question of whether dirty data — a false ranking on the TopExecutiveSearchFirms.com — somehow made its way into the data that Forbes and Statistica considered for its top list.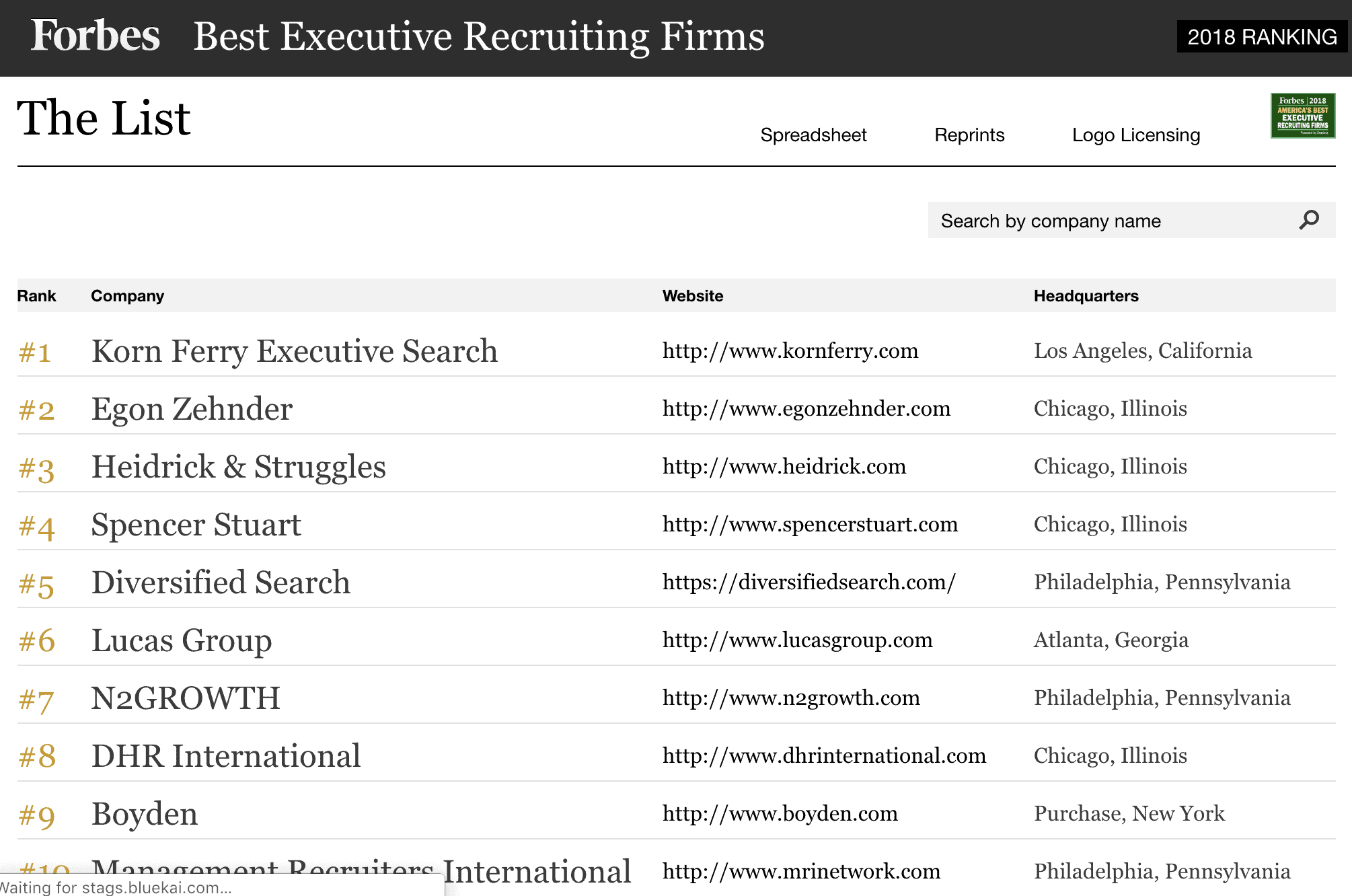 CEOworld claims to have "compiled a list of the top 100 best executive search firms and consultants that dominate the recruiting business around the world." However, the list of Top 100 Best Executive Search Firms appears to be a duplicate of the first 100 firms in the Forbes/Statistica list. That is, it features the same search firms in the exact same order. The site does not disclose its methodology or information source. Additionally, the most recent list was posted in April 2018.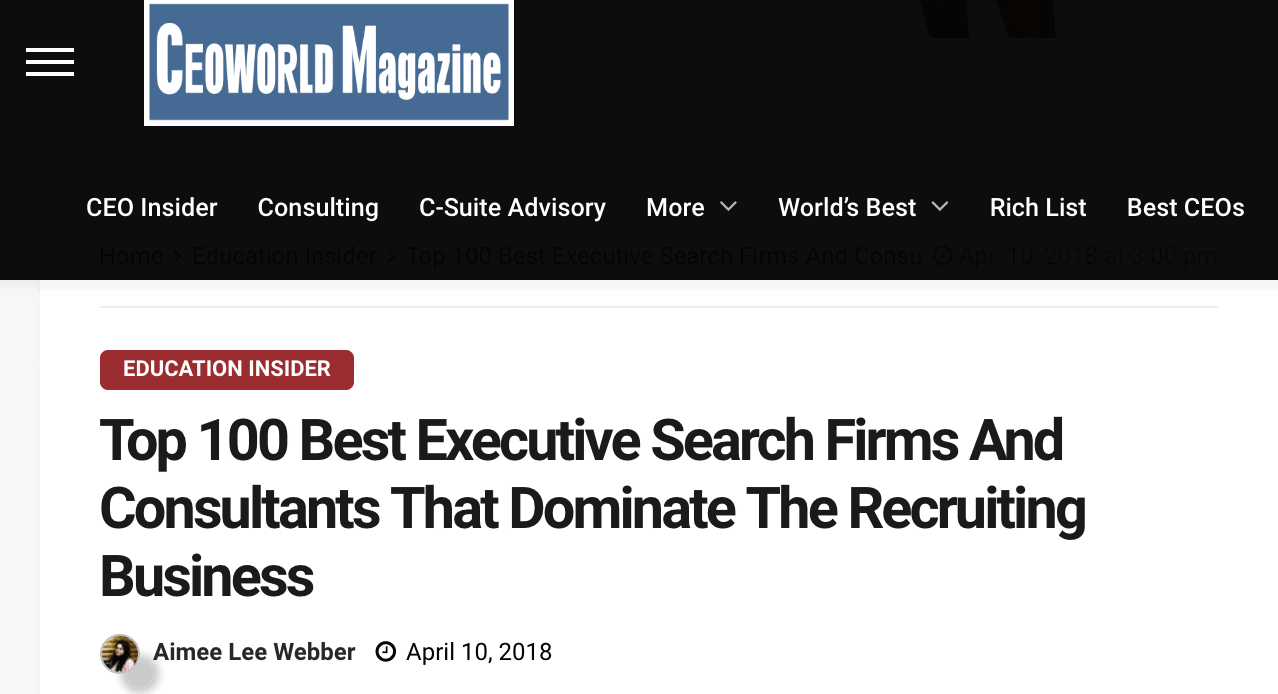 Crain's NY Business 25 Largest Executive Recruiters List
Crain's New York Business has published a list of the 25 largest executive recruiters. It is available in the Crain's Book of Lists, and the data is also available for purchase and download. However, if you are seeking a list of retained executive search firms, you will be disappointed because the list filters on the largest firms. That filter produces a mashup of firms focus on staffing, temp, and contract recruitment. Additionally, if you are seeking a list of the best executive search firms, search firm size informs — yet does not answer —  that qualitative question.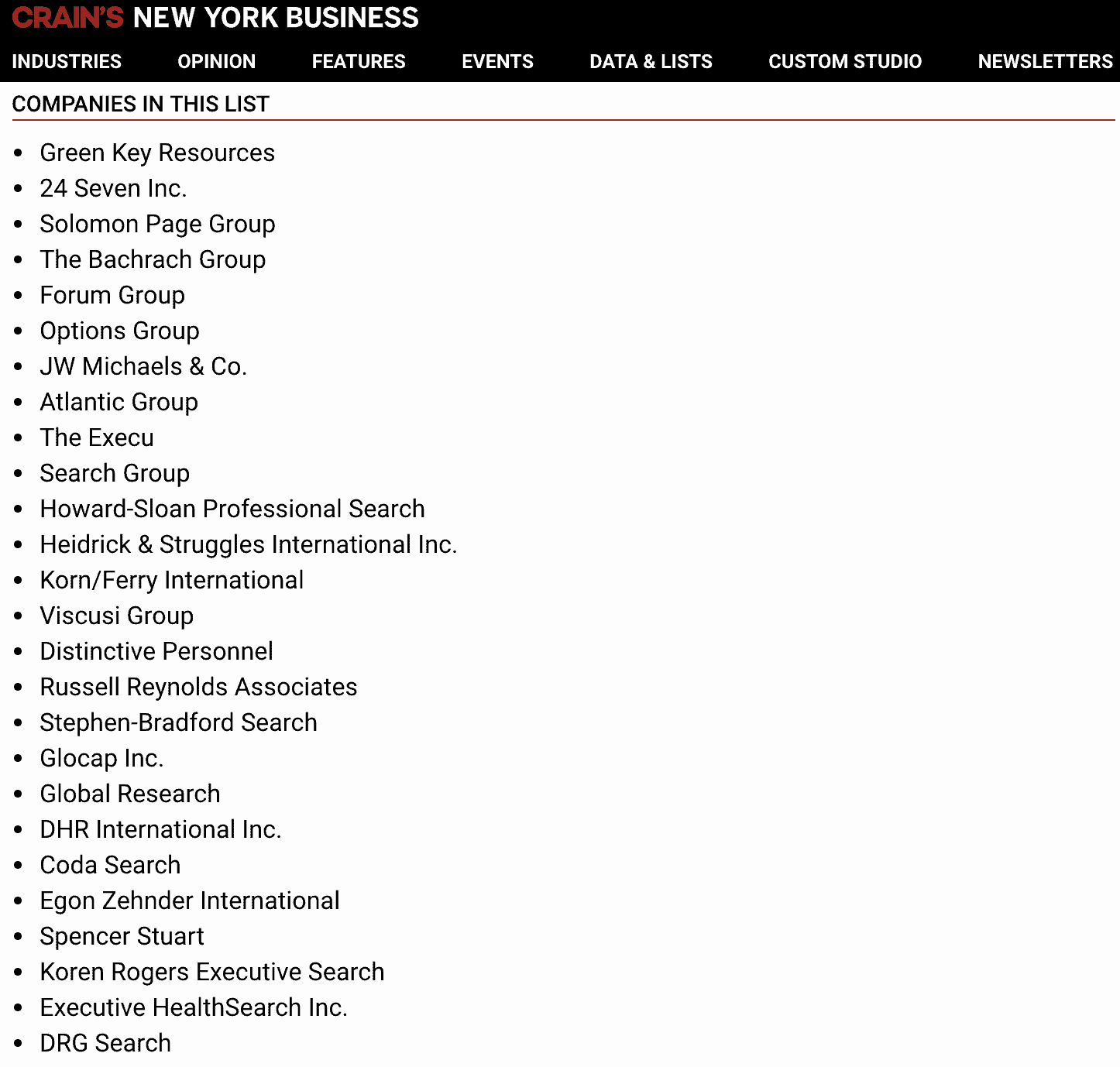 AESC Retained Search Firms List
The Association of Executive Search and Leadership Consultants offers a list of retained executive search firms. The AESC is the leading retained executive search firm association. One benefit: its members do agree to abide by the AESC's Code of Professional Conduct. In an industry where virtually anyone can hang out a shingle, that is not insignificant.
However, the global list is limited to member firms. That means a number of leading boutique firms are nowhere to be found on the list because they are not members. Moreover, as is the case with most of the lists we've detailed, there is no easy way to filter the list by firm specialty or location. In addition, the list is not ranked: all member firms are created equal.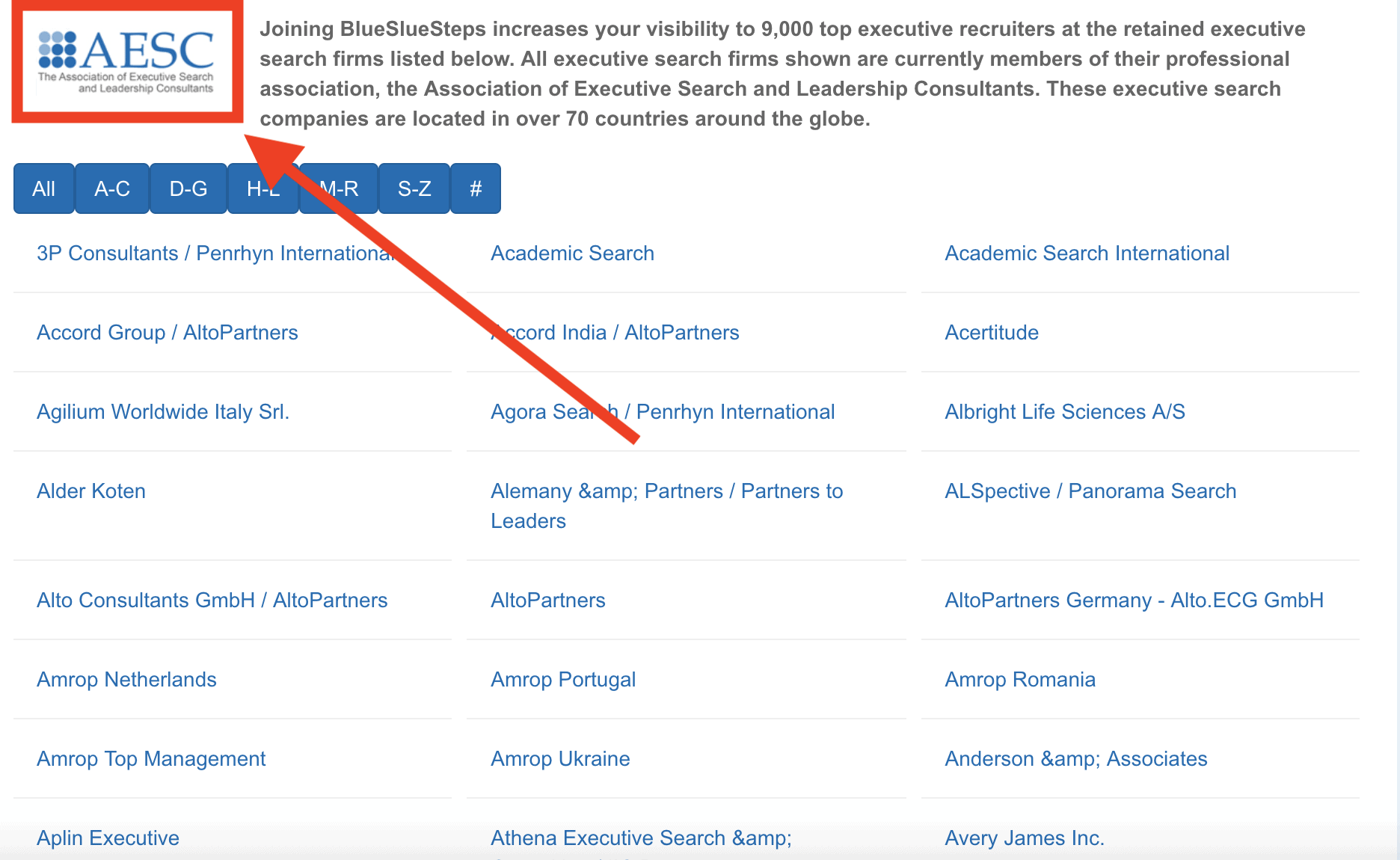 Cleverism's Most Extensive List of Executive Search Firms
Cleverism is a career website that publishes what it claims is the Most Extensive List of Executive Search Firms. However, the data it cites comes from search firm press releases, some of which are nearly half a decade old. In fact, there are numerous links to the same 2014 news release. Additionally, like some of the other lists, it appears to have been fooled by the TopExecutiveSearchFirms.com site. Cleverism cites it as a source in its Boyden listing.

Hunt Scanlon Top 50 Recruiters
Hunt Scanlon is the publisher of Executive Search Review's Top 50 Recruiters. The leadership intelligence company has covered the retained search industry for some 30 years and regularly produces detailed research reports. Hunt Scanlon Media says it interfaces daily with more than 60,000 human capital professionals in more than 30 countries. Its employees regularly communicate with CHROs, heads of talent acquisition, hiring executives, and the executive search consultants who service them. As a result, they have their fingers on the pulse.
Hunt Scanlon conducts original research to compile its list of the leading search firms. That research is informed by its decades-long industry knowledge that it keeps current. For those reasons, we believe the Hunt Scanlon list is the most reliable.