Technology Recruiters
If you have visited other pages on our website, you already know we are technology recruiters — a retained executive search firm that specializes in technology.
But, do you get to know who we are — what motivates us deep down?
As a former investigative journalist and consumer advocate, I believe you deserve better than what you've been getting from traditional retained executive search firms. 
You deserver smarter executive search, a process that yields dream candidate. You deserve a more transparent approach that eliminates the conflicts-of-interest of percentage fees. You deserve all the research that you can use to make additional hires at no additional cost., something traditional retained search firms rarely hand over.
So what makes us so passionate about designing a better retained search experience for you? To answer that question, check out our latest  video and our good story below.
— Krista Bradford, CEO, The Good Search
Their response time is exceptional, their work product is very high quality, and they're completely professional. I absolutely recommend The Good Search and look forward to working with them again soon.
The Good Story
This is the story of how I founded one of the top technology executive search firms in the business.
Like many search partners in the retained search industry, I came to executive search sideways. I didn't start out as a technology executive recruiter.
My first career was as a television news anchor and investigative journalist. Yet my background as an investigative reporter with a specialty in computational journalism gives our clients a competitive advantage. We deliver top candidates others miss.
We know how to uncover closely held information; how to develop intelligence; and how to spot patterns that ultimately lead us to the best of the best. That is how we deliver star executives.
(Cue TV news montage below)
We also know how to use data for competitive advantage in executive search. That's a skill that I developed as a data journalist — a nerdy sub-specialty of investigative reporting.  
I analyzed data to break stories and to prove what was previously impossible to determine, techniques I learned from the National Institute of Computer Assisted Reporting (NICAR).
So by the time I showed up for my first day of work at a New York City retained search firm, I was unlike any researcher the executive recruiting industry had ever seen.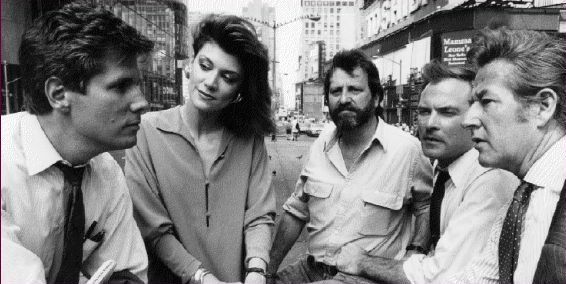 Moreover, because I was new to the world of retained executive search,  I could view it through a fresh set of eyes. I witnessed the shortcomings of the traditional retained search model first hand:
Too much focus on sales. Not enough focus on execution. Conflicts of interest. Structural issues. Lack of serious research expertise. Lack of data expertise. Lack of technology expertise. Lack of transparency. Missing value proposition.  Problem searches.
So what's the solution?
Research is the execution engine of executive search.

Build a better engine and you create the ultimate recruiting machine.
In the Age of Information, those who have the best information win. But developing the best information is getting harder to do. That's because we also live in the era of Big Data. The amount of data in the world is doubling every two years. Companies and search firms are drowning in information. They miss candidates who were standing in plain sight because other, lesser candidates get in the way. Traditional headhunters lack the data expertise needed to wrangle all that data — expertise that we have. That is how The Good Search delivers candidates you never knew or dreamed existed. Smarter search has its advantages. It is the reason why we are counted among the top technology executive search firms in the business.
Our Story as Technology Recruiters
First, We Recognized a Problem
As technology recruiters and technical headhunters, we have learned from our clients.  We serve the world's most innovative software and Internet companies in the world.
As technology recruiters, we share a passion for innovation wherever things don't work right. Executive search needs a serious upgrade.
While leadership requirements continue to evolve, the executive search industry has done little to match force with changing needs. With few exceptions, retained search firms conduct search the same way as they always have and produce the same uneven results.
To this day, executive search takes too long and hits the wall far too often. On average some 40 percent of traditional retained searches fail to complete. The failure rate has been a constant for half a century. It is a big problem that has proven hard to solve.
The Problem is an Opportunity
It is a problem that deserves a solution. Every time a retained executive search fails to produce a candidate who is hired, a company is out the $100-thousand or more it spent to find the perfect candidate.
But the loss doesn't stop there.  When a key executive position languishes unfilled for 6 months or a year,  it can cost millions of dollars in lost revenues, lost time-to-market, and lost morale.
When you stop to do the math, the cost of failed executive search is stunning.  Worst case, it can take a company down.
Next, We Identified the Cause
Executive search fails when you search with your eyes closed. For far too long and in far too many ways, search firms and their corporate counterparts have been searching for candidates with blindfolds on. They lack the time and expertise to leverage the treasure trove of data available in the Age of Information.
As a result, most executive technology recruiters and search consultants can't quite zero in on the best-of-the-best prospective candidates for the role. Consequently, they recycle high profile candidates as lesser-known (but better qualified) candidates are ignored or missed.  
Searching with one's eyes closed perpetuates the status quo and perpetuates a lack of diversity. Traditional recruiters tap the most obvious prospects and, more often than not, that candidate is white and male.
Then We DESIGNED a Better Way
Yes, there is a better way. Executive Search 2.0. The next-generation of retained search is simply more evolved. The Good Search is a not a traditional retained search firm, by design.  We are committed to transforming executive search as we know it because to do less is simply not acceptable.
We know it is folly to do search the same way everyone else does and expect different results. That is why we decided to search smarter. Our technology executive search services help you find candidates that other search firms missed. We do it by powering every engagement with a level of expert investigative research that the recruiting industry has never seen.
To learn more about who we are, check out our team of technology recruiters, the clients we serve, our executive search video gallery, and the latest Good Search news.