The Unemployment Catch-22: No Jobs for the Jobless
Last updated Apr 30, 2021
Unemployment Catch-22
Most everyone knows it is easier to get a job when you have a job. Some employers prefer not to recruit unemployed candidates. These employers are inclined to suspect that there may be something wrong with an executive who has been downsized. The reason? Companies often use downsizing as a way to rid themselves of inept employees.
However, as the pandemic has caused massive upheaval in a variety of industries, we know now more than ever that unemployed doesn't always mean underperforming and that even the best employees can be out of work.
Unemployment is Lasting Longer and Longer
According to the Bureau of Labor Statistics, the average duration of unemployment in the U.S. is 23.4 weeks. Of all those currently unemployed, 37% have been out of work for more than 27 weeks. Although these statistics have been influenced by the pandemic, even in December 2019 the average number of weeks unemployed was 20.8 — almost 5 months.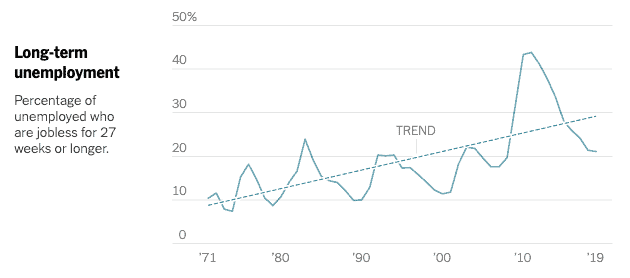 Credit: How the American Unemployment System Failed, The New York Times
You Need a Job to Get a Job
Long-term unemployment is not a new problem, but a problem that has always plagued the U.S. As leaders in Washington grapple with job stimulus programs, the biggest problem that needs solving is that of not being able to get a job unless you have a job — a classic catch-22.
We at The Good Search and at our recruiting research division Intellerati regularly hear from strong candidates who through a perfect storm of events have found themselves unemployed longer than they — or anyone really — thought possible. And worse, some employers don't want to recruit unemployed candidates like themselves. 
Author Joseph Heller first coined the term in a historical novel by the same name. His satire on bureaucratic think and circular logic resonated so deeply that "catch-22" has since come to mean any "no-win situation". Until we solve the catch-22 of persistent unemployment, nobody wins. Our recovery will remain elusive as Major Major's sanity.
For more executive search insights and trends, check out our Executive Search Blog.
Thanks for reading! If you enjoyed our post, please show the love and share it with your friends by clicking the buttons below. It makes it easier for others to find the post.