Pandemic Risks Gender Equality for Working Women
Last updated Apr 30, 2021
Pandemic Risks Gender Equality for Working Women
The 6th annual McKinsey's Women in the Workplace 2020 lays out in stark terms. The progress women have made toward gender equality in the workplace is at risk.
This study, conducted in partnership with LeanIn.Org, tracks the progress of women in corporate America. The data set for its most recent report reflects contributions from 317 companies; more than 40,000 people surveyed on their workplace experiences; and more than 45 in-depth interviews.
"In a year marked by crisis and uncertainty, corporate America is at a crossroads. The choices companies make today will have consequences on gender equality for decades to come."
Over the past five years, women have made modest progress towards gender equality in the workplace, as shown in this McKinsey graphic,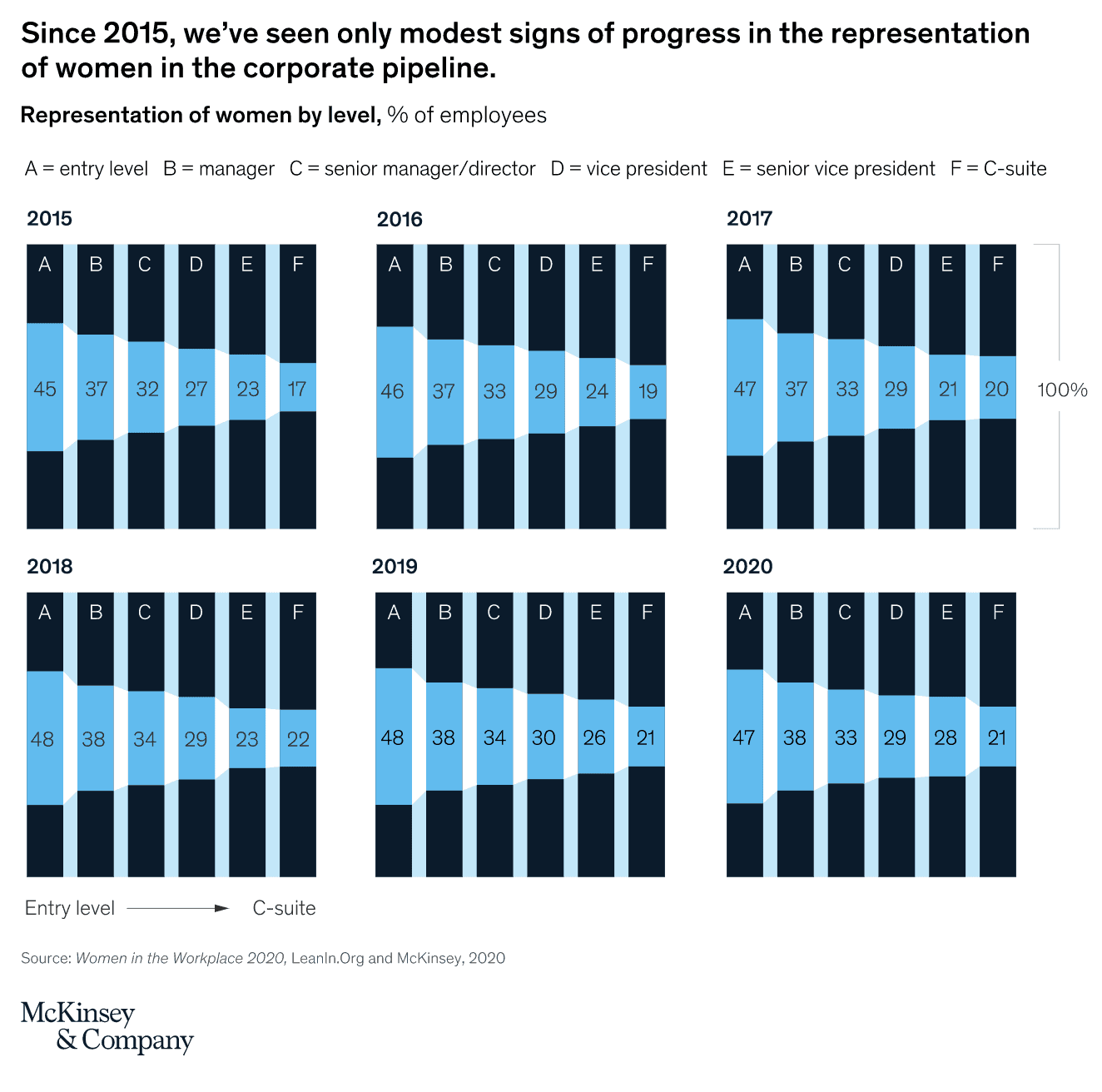 Working Women Hard Hit By Pandemic
Working women, in particular, have been hard hit by the pandemic — especially women of color.
To start, women are more likely to have been laid off or furloughed, doing serious harm to their career advancement and financial security.
Women who still have jobs may find it impossible to continue to work. The pandemic's forced the closures of daycare and public schools have eliminated the support that enabled them to join the workforce.
Additionally, Black working women who already faced barriers to their advancement in the workplace are especially at risk. They have witnessed COVID-19 disproportionately ravage their families and their communities. Moreover, the physical and emotional devastation caused by the pandemic has been exacerbated by repeated incidents of racial violence.
McKinsey observes the underrepresentation of women and women of color cannot be explained away by attrition alone.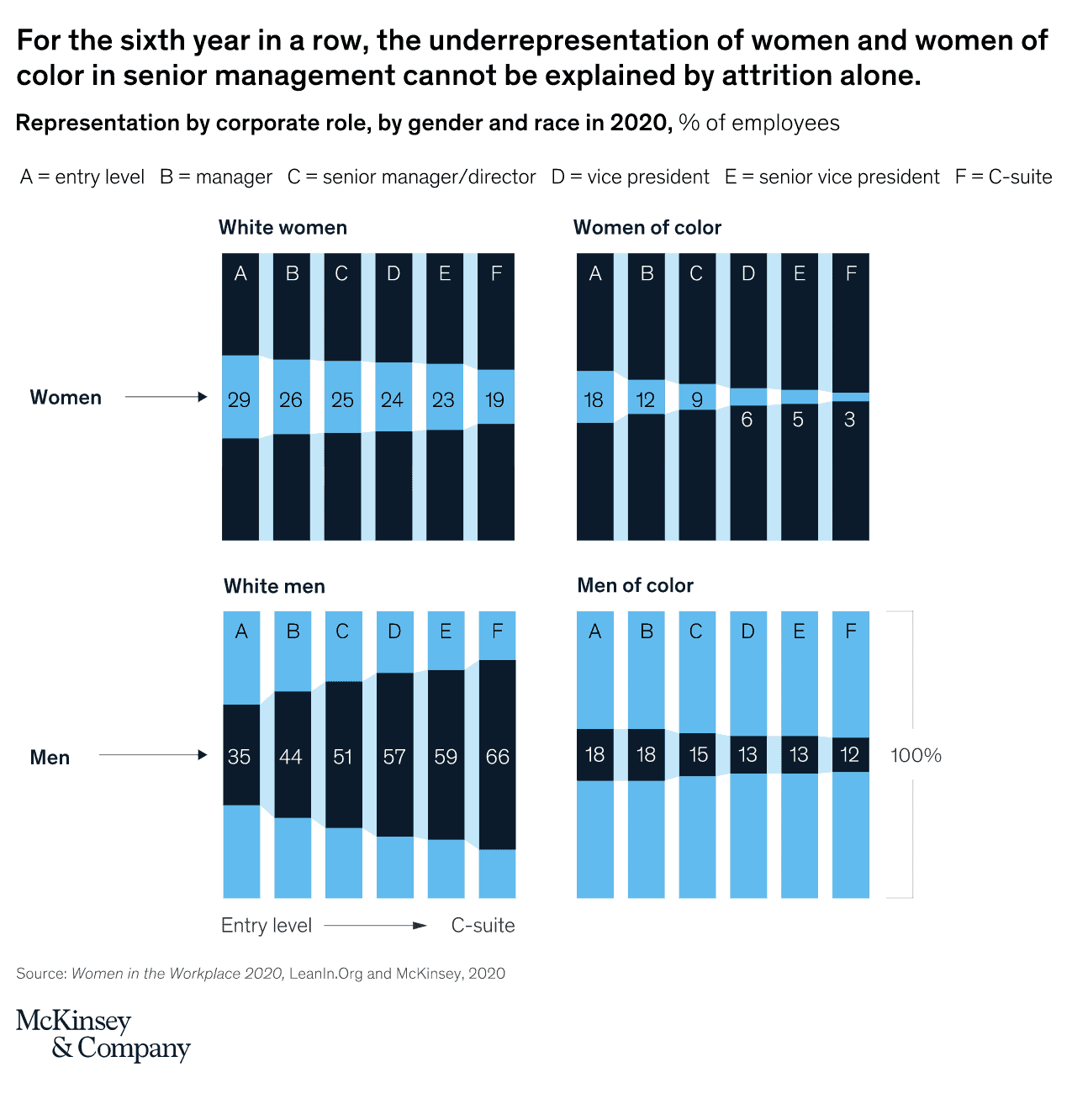 Gender Equality Progress at Risk
The heightened challenges for working women wrought by the pandemic are risking undoing gender diversity progress in the workplace.
"As a result of these dynamics, more than one in four women are contemplating what many would have considered unthinkable just six months ago: downshifting their careers or leaving the workforce completely. This is an emergency for corporate America. Companies risk losing women in leadership—and future women leaders—and unwinding years of painstaking progress toward gender diversity."
Disruption Brings Opportunity
Yet disruption brought by the pandemic offers opportunity.  Businesses that resisted allowing employees to work had to authorize remote work to stay in business. That forced experiment has enabled workers and their employees to discover the advantages of a more flexible and humane workplace. Hopefully, this and other systems established in the New Normal can be used to improve gender equality for working women. 
McKinsey goes on to say,
"If companies make significant investments in building a more flexible and empathetic workplace—and there are signs that this is starting to happen—they can retain the employees most affected by today's crises and nurture a culture in which women have equal opportunity to achieve their potential over the long term."
THANKS FOR READING! IF YOU ENJOYED OUR POST, PLEASE SHOW THE LOVE AND SHARE IT WITH YOUR FRIENDS BY CLICKING THE BUTTONS BELOW. IT MAKES IT EASIER FOR OTHERS TO FIND THE POST.