Women in Tech Hashtag Goes Viral
Comments on her Appearance
She received feedback on her photo mostly relating to her appearance. The feedback undermined her professionally. She responded with a simple declarative statement about her looks.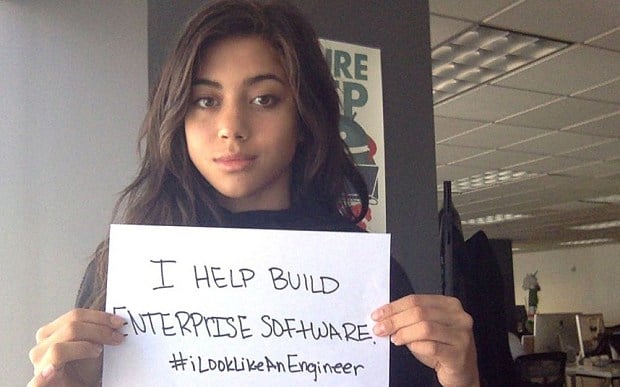 #ILookLikeAnEngineer
The Twitter hashtag #ILookLikeAnEngineer went viral and lives on to this day. Now, Isis Anchalee helps engineers who happen to be women find one another.  As for Isis Anchalee? She is organizing a team to develop a safe platform for women to continue to share their stories and experiences relating to diversity issues in tech.
Women in Tech Infographic
While we have a long way to go, there is an encouraging statistic: the number of women in tech is rising. In fact, Zuzana Padychova of Potential, Coupofy, and the Potential Female Founder's Syndicate just put together the Women in Tech infographic.
It finds that the number of women in tech is growing 238% faster than men. The women in tech infographic brings to life data from the top 8 tech companies and "30 trusted sources". Those sources are footnoted at the bottom of the infographic.

Women in Tech Consciousness Raising
The Women in Tech infographic is encouraging. It suggests that recent consciousness-raising may be taking hold.  #ILookLikeAnEngineer has prompted men and women alike to stop and think about gender disparities in engineering.
THANKS FOR READING! IF YOU ENJOYED OUR POST, PLEASE SHOW THE LOVE AND SHARE IT WITH YOUR FRIENDS BY CLICKING THE BUTTONS BELOW. IT MAKES IT EASIER FOR OTHERS TO FIND THE POST.